Published by Alessandro Violante on October 15, 2021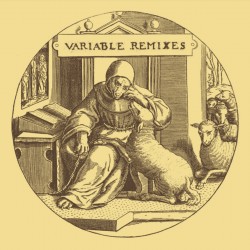 Often, remix albums are wild cards. Sometimes they're considered fillers, sometimes they're interesting releases, sometimes they're masterpieces. There are several examples of this kind of albums in techno and techno-based music, as often they're also conceived to be played by deejays.
We've already talked about the Greek label Pi Electronics when they released their last vinyl SPLIT #1, released on 14th May, and today we talk about their new vinyl, entitled Variable Remixes, consisting of five rather interesting and uncommon remixes. Those remixes are new interpretations of five songs included in their V.A. Variable, released on 2018, which can be considered an important release in their catalogue. The artists remixed in Variable Remixes, which will be released on 20th July in vinyl and digital formats, are Unhuman, Damcase, I Am Legion For We Are Many, 3.14 and DΛS.
Unhuman has been remixed by Esplendor Geométrico, Damcase by Container, I Am Legion, For We Are Many by O/H, 3.14 by Geistform and DΛS by ANFS. What's quite interesting is how here musicians belonging to different generations and to different facets of techno and industrial music are put in relation. In this way, new connections are traced between the musicians, and the youngest generations will discover new music they sometimes don't know about.
Let's think about the remix done by Esplendor Geométrico for Unhuman, about that done by O/H for I Am Legion, For We Are Many, and about that done by Geistform for 3.14.
Let's consider the first remix, that done by Esplendor Geométrico. Unhuman has been reasonably considered one of the most interesting artists of these years, thanks to its releases done on Liber Null Berlin, She Lost Kontrol (together with Petra Flurr and with the project Aktion Mutante together with Violet Poison), Instruments Of Discipline, Strange Therapy, AMOK Tapes, L.I.E.S. Records (together with An-I), BITE, and so on. Esplendor Geométrico aren't only considered one of the most important groups in industrial music history, but, by many, also the pioneers of rhythmic noise music with albums such as Mekano-Turbo and Sheikh Aljama, just to name a couple of them. In this remix, Arturo Lanz and Saverio Evangelista have done a radical transformation of the original song by Unhuman, resulting in a minimalist, rhythmic noise-like, mechanical, geometrical, and stabbing output. It's the best highlight of the release.
O/H, also known as Ontario Hospital, are the project of Rich Oddie (1/2 of Orphx) and of Huren. Their version of Untitled fully represents their particular style. The original song by I Am Legion, For We Are Many, partially shares a similar sound.
Geistform is considered one of the most important rhythmic noise and industrial techno musicians, who has released music on labels such as Daft Records, HANDS and Pi Electronics itself (PI10). The Spanish musician offers its personal interpretation of the song GBNR17 by 3.14. Here, the evolution of the typical "Geistform sound" towards pure techno can be found.
Also the remixes by ANFS for Spinner, originally written by DΛS, and that of Container for Inkl rules, originally written by Damcase, hit the mark. In the first song, it does it by means of an hammering rhythmic noise beat; in the second song, it does it by means of an enthralling and groovy rhythm. In both these remixes, while listening to the original songs, it can be found that, between the original versions and the remixes, there is a perceivable continuity.
In the light of this analysis, we could define Variable Remixes as a good release, including some interesting remix, which will be appreciated by the lovers of a certain sound and by the followers of the path followed by Pi Electronics.
Label: Pi Electronics
Rating: 8