Published by Alessandro Violante on January 6, 2017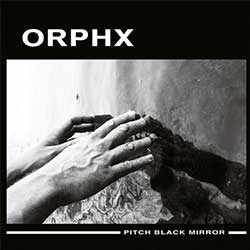 Transmutation. That's what you could think while listening to Orphx's music, the creature of Rich Oddie and Christina Sealey: a formula constantly changing in time, started in the early '90s with releases characterized by strong industrial and noise components, then flirting with techno beats in their first album released by Hands Productions, Vita Mediativa, and considered among the most prolific artists releasing music under this German label. Although exploring several genres and melting them resulting in very different albums, they've kept their peculiar trademarks: transmutation and research. Before the release of their new album Pitch Black Mirror, released on cd by the aforementioned Udo Wiessmann's label and on vinyl by Sonic Groove, the listeners feeling was that these two musicians had a sort of scientific and "distant" approach to songwriting, like sound technicians writing purely mechanical music. As an example, listen to Circuitbreaking, released by Hymen Records and considered one of their best releases.
With Pitch Black Mirror, something has definitely changed. You can think of several factors that could have determined this new approach: the techno industrial revival we're experiencing today, the rediscovery of '80s old school EBM and wave masters, or maybe, more simply, Rich and Christina, after having experimented with IDM (The Living Tissue), rhythmic noise (Insurgent Flows) and after having made some purely techno releases with Sonic Groove, have reworked their sounds and put them in a song form. Think about the opener Unknowing.
In their past discography they've studied and played with every aspect of rhythm and sounds, including heavy distortions, but this is the first time they've created a song paying an homage to old school EBM acts such as The Klinik, using vocals with an echo effect. What makes unique this song, as well as the rest of the album, is the attention put to each sound, in a similar way to Blush Response's Reshaper. This is the result of more than twenty years of studying and working with analog and modular synthesizers. The listener will feel its beats never sounding in the same way, always subject to change. This adds a strong sense of physicality to the rhythms.
Even if it could be said that their previous studio album, Radiotherapy, started focusing on techno beats more than before, and that's definitely true, the following song, Sever The Signal, is absolutely something new in their discography. Here, Orphx use distorted beats to create an intriguing and rapid techno-derived ballet with distant female vocals and a kind of disco taste, which could be found in the following Blood In The Streets too, with its tempo and its old-fashioned sounds. It seems Orphx had fun making this tune. Molten Heart is the song every techno industrial musician should listen to, a techno ride perfectly suiting with the idea of transmutation, a long tune with smart acid sounds and noise and industrial inserts. Undying recalls in some way Axiome's sounds, with a syncopated rhythm filled with acid injections slowly reaching a frenzied crescendo, and we're only at the half of the album.
A storm of emotions and unique sounds surround the listener when he listens to the highlight of the work, Zero Hour, a song starting with a deep and slowly distorted hard tempo, slowly transforming into some kind of old school EBM assault with powerful vocals and classic body music basslines here manipulated by the mastery of the duo, resulting even more powerful than their "influences". The often mentioned Transmutation is another good example of a dark-flavoured and alienated techno ride, ending with an old-fashioned siren sound and creepy vocals. All Rivers At Once has a darker atmosphere, showing an almost dark ambient taste, while Walk Into The Broken Night slows down the tempo introducing a melancholic mood, a dark ethereal atmosphere and cold female vocals. The titletrack, put at the end of the album, only focuses on '70s electronic sounds without any beat in the background. Here there's an atmosphere recalling early German experimental electronic musicians and theorists, a sort of tribute to them.
Pitch Black Mirror can be considered both a point of arrival in their research and their "catchiest" release so far. It doesn't really matter. Think about it as a new milestone in their career, not a new starting point, as they've always changed directions, approaches and electronic music "languages". This time it was techno. Next time, who knows. The only thing we know is it's the result of five years of efforts, particularly worthy of your attention.
Rating: 9
Label: Hands Productions