Published by Davide Pappalardo on February 15, 2018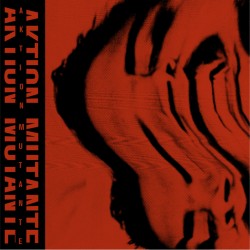 Aktion Mutante is the duo comprising Francesco Baudazzi ( Obtane, Violet Poison) and Manos Simotas (Unhuman). Their music is a highly addictive mix of synth punk, EBM and minimal wave, resulting in an obsessive sound recalling the early days of the genre, thanks to its iconoclastic roots and experimental nature. They already debuted on the compilation Filth (2017, Total Black – Liber Null Berlin) with the track Inno dell'elefante, an old school throbbing affair characterized by minimal crescendos and slow rhythms, and now they present their first self-titled mini album released under the independent record label She Lost Kontrol.
Not surprisingly, here we find six old school tracks with a modern edge and politically inspired titles, made to be listened and danced to. If you need a reference, you can think about Orphx's Zero hour and its militant crescendo empowered by steady rhythms and cutting synths; the same energy and rebellious atmosphere can be find in this promising first work of the duo.
The title track starts our ride with its frantic distorted sounds accompanied by filtered vocals and industrial tinged rhythms, recalling the most violent moments of Absolute Body Control. The track grows thanks to the adding of different layers of sounds, until it reaches its final climax. Rotazione has a funkier nature, an enthralling number that will make your body move, characterized by an EBM sound that would not be out of place in any Front 242's album between 1984 and 1991, while Controllare il sistema returns to their fast paced synth punk style, giving us a galvanizing attack made of throbbing synths and compulsive beats.
The path is a darker affair, completed by cosmic synth lines and crawling rhythms among which dramatic vocals and pounding structures find their home. An evocative atmosphere enhances the overall epicness achieved by track during is building. Decades shows us a more techno-oriented approach, without losing all the raw and old school elements of the duo: here the beat is the main theme, but unsettling sounds and industrial hard rhythms are not forsaken. An almost ethereal chorus effect is the perfect peak for this highly seductive moment, one of the best on the mini album. Internal problem closes our journey with a slow, pulsating crescendo with an ambient quality; female vocals (courtesy of Zoe Zanias) and indented structures guide us among electro movements, and the second part of the track has a menacing build which hypnotizes the listener until the very end.
Aktion Mutante introduce us in their world with a bang, presenting their sound in a way resulting at the same time coherent and never boring. By taking the best of '80s and early '90s synth punk and EBM (adding some more modern and darker influences in the mix) and filtering it with a modern approach, they revitalize that time where the lines between the genres where blurrier, permitting a freedom in songwriting and ideas not permitted by a rigid and dogmatic scheme. At the same time they look back at the thematic roots of early industrial and EBM music, without ever be preaching or pretentious, just suggesting the themes while focusing on the music. All in all, a great debut that makes us hungry for more to come.
Label: SLK Records
Rating: 8