Published by Alessandro Violante on May 15, 2021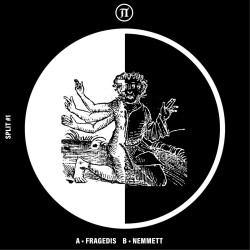 Today we are in Athens, in Greece, to talk about one of the most appreciated projects in a certain kind of techno scenario. It's no mistery Greece is a country particularly rich of artists, labels and projects. Some of the most known are Modal Analysis, Pi Electronics, OSM Tapes, KNK Power. Today we talk about Pi Electronics, a sublabel of the aforementioned Modal Analysis, founded by the π collective. The project started in 2014, and began organizing events.
Since 2016, Pi Electronics also started releasing music by well known artists in the techno, EBM and industrial fields as well as the music made by "new" talented artists. Some of these artists have progressively become important and well appreciated in the so called "industrial techno" scenario. Among the artists released by the label, we can find the project Vofa, created by ANFS and Sawf, the Serbian duo Ontal, JK Flesh, Stave, Elements Of Joy and Geistform. Pi Electronics has progressively become very appreciated by the lovers of a sound mixing techno with industrial, noise and old school electro, also thanks to the growing interest shown for this music by the youngest generations of clubbers.
Having said that, we'll concentrate our analysis on the object of this review, their new release SPLIT #1, released on vinyl and digital on 14th May, including new music by the Greek musicians Fragedis and Nemmett. SPLIT #1 is the first chapter of a new series of vinyls belonging to their Various Artists catalogue. In this new series, each vinyl includes music by two artists. Both Fragedis and Nemmett are known musicians to who knows the Greek scenario. Fragedis released an EP, entitled Intersection, with Modal Analysis in 2019, as well as a song in the V.A. Divide & Rule, released in 2020, while Nemmett released a song on the V.A. Variable in 2018, and a tape, entitled Volition, with OSM Tapes in 2020.    
In SPLIT #1, the listener will find two different yet similar artists, each having their personal approach to techno-based music. In Flantza, Fragedis shows a good mixture of techno and electro enriched by breaks and apocalyptic-dystopian synths, while in Kliris it enriches its sound with vocal samples and heavier rhythms. Also Nemmett shows that mixture of techno and electro that, in Altars, has evocative and obscure sounds, while in Teeth is enriched by breaks, obscure atmospheres, distortions and incisive beats. Another song, Teeth (Excerpt), which is only available on the Bandcamp page of the release, is a beautiful reprise of Teeth, with its powerful beats, its breaks, its atmospheres and its distortions.
Both in the music of Fragedis and in that of Nemmett, rhythms are very important elements of their energetic formula, thanks to their richness of shades and variations, helping in keeping the attention of the listener. That's more than sufficient to enjoy SPLIT #1, a good portray of the Greek scenario and of the sound of Pi Electronics.
Label: Pi Electronics
Rating: 7, 5