Published by Alessandro Violante on October 4, 2020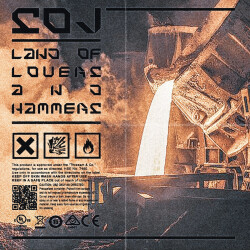 While listening to the new Infidel Bodies release, the first thing the listener can perceive is that the Italian label based in Naples has kept on following its mission once again, releasing an album which, regardless of the personal taste of the listener, explores another facet of the universe of industrial, noise, dark electronics and techno music. Once again, Erminio Granata and Marika Pagano decide to give to the listener something different from before.
In Soj's Land of Lovers and Hammers there aren't the tribal rhythms and the ancestral atmospheres of Hyperlacrimae's Yoga Darśana, the visionary electronic music of Turvia, Le Moderniste's power electronics, nor the noise overwhelming layers of Common Poetry and Arabian Violence, and we could dig into the first release of this label too. In these ten songs (plus the four remixes by WDLW, Unconscious, IV Horsemen and Filmmaker) there's incisive, strong, rough, abrasive, metallurgic, industrial techno and techno-derived music.
Several decades ago, Esplendor Geométrico already taught that Spain isn't only a land of lovers but also of "hammers", and later on other very important artists such as Geistform did the same, after learning their lesson and proposing their style. Recently, Spain has started having a way more important role in the so called current "underground scenario" thanks to new labels, artists and fanzines. Think about Futuro De Hierro, strongly influenced by the aforementioned duo, about the fanzine and label Industrial Complexx and, of course, about Soj and his label Soil Records.
The Spanish label Soil Records has begun releasing music in 2018 and since then has progressively acquired an important role in the underground world, not only releasing Soj's music but also that of young yet already well-known musicians such as the Colombian artist Filmmaker, Autumns, Verset Zero, Group, Alpha & Necromante, Penelope's Fiance and Tullia Benedicta. Writing about these artists and this music means starting to historicize what we can consider a "new wave" or, better said, "new waves" of artists sharing music, social and geographic common elements. All of them are having an important role in the reappropriation by techno music of its provocative trademark and punk component.
Infidel Bodies, which is an active part of this recent global network, has now released Soj's music into its varied catalogue of releases. Land of Lovers and Hammers is a release which goes straight to the point with incisive killer dancefloor-ready songs alternated with slower yet incisive songs.
In the last category we can find the opener La Mujer Anfibio, with its dark ambient-influenced sound, having the role of bringing us, since the first song, into an heavy industrial factory.
Among the best outputs, Warned and Tramites de Media Noche should be mentioned, with their rough layers, their hard-hitting rhythm and their sinister synth lines (think especially about Tramites de Media Noche). Songs such as Butter to death emphasize the role of imperfection as a way to express the materiality and the physicality of techno with a punk attitude being something more than music itself.
Rating: 7, 5
Label: Infidel Bodies