Published by Alessandro Violante on March 1, 2018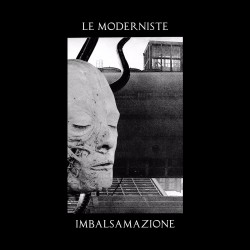 Among the most interesting of the recent music projects in the field of techno-influenced industrial music, Laurent Delogne alias Le Moderniste stands out for his creativity and for the way in which he succeeds in crossing genres, interpreting them with his personal touch. While in his early years he was more inspired by classic rhythmic noise, he has progressively moved towards a mixture of rhythmic noise and death industrial. We can see that with Desistere mortem timere, released in 2016 by HANDS, an album followed approximately one year later by Imbalsamazione, released on limited tape edition by Naples-based, Italian label managed by Marika Pagano and Erminio Granata Infidel Bodies.
Le Moderniste' music is "Postmodern" as he doesn't try to invent new things, focusing instead on what he likes the most, giving it new life according to his point of view, the same way Postmodern architecture did. That's why he's a true "moderniste", and this is his major strength.
It could be said that Imbalsamazione starts where Desistere mortem timere ended. The Italian public will recognize some kind of Italian noise – power electronics influence (Le Moderniste is also a fan of Maurizio Bianchi). A lo-fi production, a strong minimalist approach, the use of stabbing effects and Italian language for some song titles. The influence is clear, although the inner rhythm of his music and his background are clearly perceivable.
As a Belgian musician, Le Moderniste approach could recall that of late 80s and early 90s Dirk Ivens, according to the idea of "less is more". Obviously, Sonar is one of his influences. With Imbalsamazione sounds become essential, dry and morbid, and the noise element is clear in every song. The main topic is death, as clear in song titles such as Pratica la penetrazione chirurgica, Corpo vivente doloroso and Il tempo della corda, an homage to the aforementioned typical Italian influences.
The inner rhythm can be perceived in the opener Imparare a odiarti as well, in which it sounds like a pneumatic drill, like a redundant funeral march. The aforementioned Pratica la penetrazione chirurgica, with its minimalist death industrial, has a dull noise sound, and what we can perceive as an "error" plays a fundamental role in the song as it gives it more strength. Le Moderniste music here smells like unhealthy air. Smells of putrefaction is another very powerful march towards death, while Corpo vivente doloroso, with its synthetic "screams" is perceived as cold, unhuman, something to be afraid of. The rhythmic noise inner rhythm that follows is heavy.
Hyperdistorted yet minimalist, dark, morbid rhythmic mantras, dark sketches from a soundtrack for an unreleased Italian b-movie focused on death and everything there is about it are what the listener will find until the end of the album, never forgetting the artist roots. Imbalsamazione is a further step in Le Moderniste career, an unclassifiable cross-genre yet intelligent approach, and that's what the listener will like the most in his music. Close to Maurizio Bianchi' Teknoise as well as to Belgian masters, it is an interesting album. Very prolific, Le Moderniste is already working on his new album, this time influenced by Georges Bataille' writings, and the only thing we can actually do is waiting for it, expecting something different yet linked with his past releases, while listening to Imbalsamazione.
Label: Infidel Bodies
Rating: 9