Published by Alessandro Violante on June 3, 2019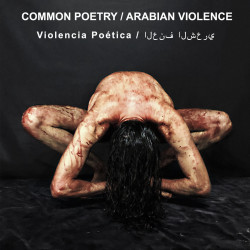 Released on Infidel Bodies, the independent Italian imprint focused on industrial, ambient, noise and EBM, Violencia Poetica / الشعري العنف is a split album cassette release from Common Poetry and Arabian Violence with a live, improvised feel. A curation of eight different tracks that all share a mutual sense of oppression and violence, the cassette performs as a poetic fight
against the injustices of the world and a ruthless expression of freedom, created through aggressive post-industrial and noise elements, with some fragile moments blinking through the crushing darkness in between.
Violencia Poetica is the debut release from Common Poetry, the Columbian duo behind the multidisciplinary Rubber Mind concept which is responsible for bringing experimental noise, industrial and experimental music to Bogotá. Their offerings for Violencia Poetica / الشعري العنف are a representation of the harsh and experimental sounds we have previously enjoyed in their live and DJ sets, and a brutal taste of what we can expect to hear more of from them in the future. Golpe de estado is a terror igniting start to Side A, comprising of screeching electronics with muffled screams submerged in the background. This is followed by six and a half minutes of dystopian sound dimensions in the form of La opresión de la ignorancia, before Los muertos no cuentan historias delves into techno territory with pounding kick drums and raw industrial elements.
Side B features four tracks from Arabian Violence, the mysterious project of Mehdi Kasri, based in Casablanca, Morocco. The political landscape of his motherland has deeply influenced the project, with its history of genocide and revolution and modern day issues such as riots and police brutality. These inspirations can be felt in each of the tracks, both in the feelings of rebellion that they render as well as in the use of field recordings. Fatima weldek labas
features voice recordings amongst distressing beats that makes the track sound as though you are on the frontline of a war, and Arabian, Muslimgauze-esque drum patterns are used in Violence is my mother, a rhythmic and merciless industrial techno leaning track. Violencia Poética / الشعري العنف is released on the 31st May 2019 and is available on Bandcamp digitally and as a special edition cassette limited to 70 copies.
Label: Infidel Bodies
Rating: 8 / 10