Published by Davide Pappalardo on May 17, 2020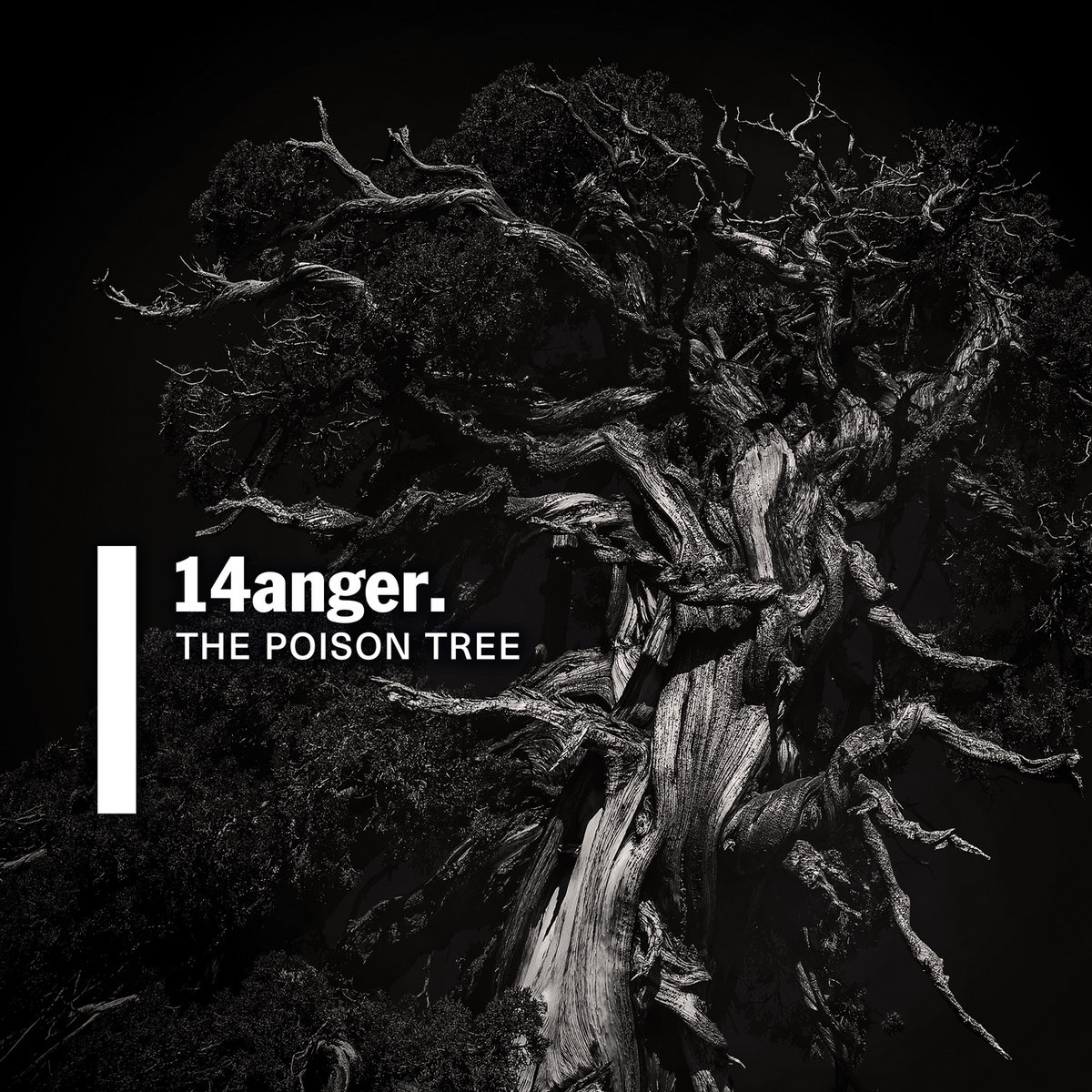 French producer Clément Perez has been active in the fields of techno, noise, industrial, hardcore, EBM for some years. Part of the famous duo Rendered with Daniel Myer of Haujobb and Architect fame, he is active as a solo project called 14anger too – a space where he has been playing during the years with variations on a hard techno theme.
After many EPs like The Lost Path (Datalab Records, 2013), Caves Of Steel (Mk Recordings, 2014), Right After Midnight (Kallkällan Recordings, 2016), Heartstopper (Folgsamkeitfaktor, 2019), he now debuts on the historical label Ant-Zen with his first full-length, the 16-track album The Poison Tree. Here the rave sound of his past is reworked with 90's IDM and broken rhythmic patterns, noise elements and dark ambiances.
The result is a conceptual sum of his style, and at the same time a more refined and broader version of it, enriched by elements coming from his various projects (think of The Truckdrivers, the doomcore project The Uninvited with Julien Josserand of Moshpit and Wes Raven of Minimum Syndicat, or his ventures in hardcore as Klem Hcc and Zerogoki) and the aforementioned collaboration with Myer.
Train to nowhere is an apt intro for our voyage: broken rhythms and dark vibes are underlined by destructive bass sounds in a rhythmic-noise march underlined by vicious and whispered vocal samples. The minimal structure conveys an industrial aesthetic with shrilling effects, conjuring a lysergic atmosphere.
5 minutes left sees the presence of Belgian rhythmic noise legend Hypnoskull in a frantic and abrasive affair with commanding and stomping sounds and sparse sharp elements. The taste for broken structures meets 90's innuendos in a disorientating but enthralling mantra.
After the eerie pastiche The poison tree, an almost ambient suite with robotic vocal samples and soothing drones, we find the epic dark techno Ruins and its motifs fused with noise soundscapes and hard-hitting industrial kicks. The track showcases his vision of techno industrial which doesn't forfeit oldschool elements and alien atmospheres.
Adown the glade is a sharp episode with robust rhythmic-noise attacks and grinding sequences, a rusty movements recalling the golden age of the genre with its antagonizing sounds and almost ritualistic rhythms. The track even presents disorientating drones before returning to its demented mantra.
Those who remain deploys an interesting "rock" structures with distorted drums and low-tuned sounds, creating a sort of electronic-doom characterized by a suspended tension. Shrilling ambiances complete this aural voyage into an acid nightmare.
The album ends with four remixs; the first one sees Ante-Chamber (Mahk Rumbae of Codex Empire and Mitra Mitra) rework Endless ritual, giving us a majestic ambient-industrial piece with crawling rhythms and subtle but emotive piano notes, and a climaxing grandiose finale with soothing pads. Shrouds renders Train to nowhere as a militant and rhythmic-driven piece full of sharp effects and broken structures, giving strength to the original distortions. A chaotic sabbath with unrelenting and compulsive atmospheres.
Crystal Geometry remixes Ruins, following his muse and adding even more techno-oriented passages and a subtle EBM bassline. This way the track sounds as a more straightforward dark techno piece with less noisy moments, but it keeps its creepy vibe. Mono-Amine presents his rhythmic-noise sound in the remix of Adown the glade, in which he applies his style with more of a futuristic and sci-fi feeling. The track slowly grows into a grinding affair, before dissenting into nothingness.
A multifaceted work showcasing a more experimental and adventurous side of 14anger, in which all of his past experiences are taken into account, but in a different and new way. Rave influences, IDM, breakbeat, techno industrial. Become colours for a painting going beyond dancefloor urgency. The industrial roots of the harder kinds of techno are explored and reinvigorated with some modern vibes while retaining all of the core elements. Different structures find here a place, configuring an album with its own internal narration and not a collection of tracks with some fillers. Perez gives us a proper full-length with a clear artistic vision and direction.
label: Ant-Zen
Rating: 7,5