Published by Davide Pappalardo on April 10, 2016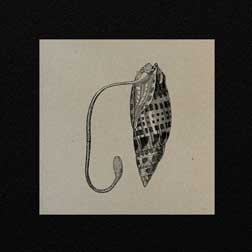 The Austrian band Mitra Mitra (the scientific name of a kind of sea snail) is an unusual duo formed by the English musician Mahk Rumbae, the mind behind Oppenheimer MKII, Konstruktivists,  Ghost Actor and Codex Empire, and the New Zealand DJ Violet Candide. It's another project of recent times addicted to minimal music linked to the style of the most minimal, cold and atmospheric 80's synth music. As we already know, the genre is gathering a lot of success, thereby generating many albums and getting many followers eager to be part of this return to decadent and somehow neo-romantic soundscapes.
After publishing in 2015 the limited EP Indecisive Split Decision for the Youth Polytechnic label, a work characterized by a synthwave sound, they now return with their self-titled album, published on vinyl limited to 150 copies and on cassette and download for Micromort Music, giving us, as anticipated, an episode close to minimal synth and coldwave music, characterized by drum machines combined with minimal spectral keys and haunting basslines. The result certainly does not revolutionize the genre, but it gives us twelve tracks that will delight the many fans of this kind of music. As often happens in the genre, everything is played on repeated loops, giving us an evocative mantra, but delicate melodies are not forgotten, even if they're seldom lost in a sonic fog which is always present.
The album offers us a good selection of variations on the theme thanks to a varied enough songwriting, which manages to give to the overall structure the movements that are required to keep it interesting. So we have minimal moments like Metrolumen with his nocturnal keys and its basic rhythm, which drags us with it in constant hypnosis, or more dreamy and ethereal moments like in Blender with its foggy atmosphere accompanied by female vocals. Headaspin gives us a harsh synth accompanied by triumphal keys and a persuasive as well as cold voice, which brings us back to the Teutonic and minimalist synth pop of the first album of the German band Propaganda, evolving then into a creeping structure with cosmic sections, while Digital hue paints a noir musical scenario related to the style of early Ladytron, always keeping everything under control both rhythm and melodies wise. Opportunity gives us enthralling grooves combined with a mechanical drum machine, on which stand out vocals from a cyber-utopia, while the final track Micromort brings us back to more ambient territories, only to open up itself to sidereal sounds that recall the instrumental experiments of Absolute Body Control in the early 80s.
A work with a wide variety of arrangements, while staying true to the genre of reference, able  to not bore the listeners, even when they are not completely aficionados of the current minimal wave in its most repetitive form. In some circumstances the female voice reminds us of the coldness of bands such as Propaganda, and other times of the style of early Ladytron, while the music is not afraid to give us sometimes more danceable groove, as well as noir soundscapes where it is implied a certain cinematic tension. An interesting record that certainly deserve more than a listening section, and that we feel like to let our readers know about.
Label: Micromort Music
Rating: 7