Published by Davide Pappalardo on July 10, 2019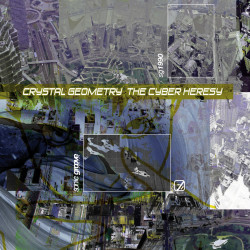 French producer Maxime Fabre aka Crystal Geometry renews his alliance with Adam X's label Sonic Groove with his second EP for the imprint called Cyber Heresy, a 4-track vinyl and digital release further venturing in the world of EBM informed techno-industrial music.
A career characterized by works like the cassettes Terminus (Area Z, 2018) and XV Signs of Doomsday (Tripalium Records, 2019) and the first EP for Sonic Groove Red Faith Militia (2018), deeply influenced by a personal take on high-octane techno-industrial increasingly showing a linkage with EBM and electro-industrial.
A hard and bleak sound made both for the dancefloor and our listening pleasure, a communion of strong kick drums, unrelenting basslines, distortions, engaging rhythms, old-school motifs evoking the late 80's European EBM scene with a modern twist and making it perfectly integrated in the current scene.
For all individuals takes no prisoners with its bombastic style made of stomping rhythms and throbbing basslines completed by chanting vocals. The track grows in intensity thanks to unforgiving kick drums and droning grooves, creating a dark sci-fi scenario made of battles and atmospheres full of suspense. Moons is a pulsating techno affair with engaging percussions and steady snare drums underlined by eerie synths and steel-like beats. A robotic voice guides us amidst a futuristic world where colonies struggle and spacecrafts fill the sky. The droning movement enslave the listener while male and female vocals lasciviously surround us.
Butlerian jihad starts with a throbbing EBM bassline soon reached by ominous effects and pounding rhythmic patterns. An eerie soundscape informs the track giving it a surreal feeling, will leashing kicks conjure highly entertaining mantras. Here Sabre shows his skills as a producer and sound-designer going well beyond simple club music, but at the same time staying true to the nature of his techno boy music. Pandemics returns to faster and groovier territories with a frenetic ritual characterized by fast paced snares and stomping beats. A mechanical ride that will for sure conquer any dancefloor, and another example of modern EBM at its finest.
Probably the strongest effort to date from the artist, The Cyber Heresy is a ferocious yet enthralling output evoking a cyberpunk world not too distant from the one of his mentor Adam X – but with an even more obsessive and harder nature. A gem for any lover of modern techno/EBM and a confirmation for one of the rising names in the scene.
Label: Sonic Groove
Rating: 8