Published by Davide Pappalardo on January 31, 2019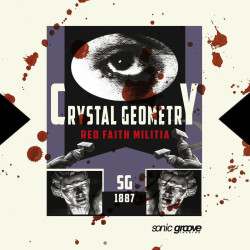 France producer Crystal Geometry (Maxime F. Sabre) is one of the top new names in the field of EBM/industrial tinged techno. His music gives us a dark and militant take on the genre, mixing brooding atmospheres, obsessive and droning structures, hard beats, abrasive synth sounds. After many digital EPs and the presence of the track Hammer On The Flag on various compilations, he debuted on the label Area Z with his cassette Terminus. A work characterized by the aforementioned elements, aimed both to ravers, both to rivetheads. The apocalyptic vision of old-school EBM is blended with the most obsessive kind of techno, delivering a grim but engaging sound.
Now he returns with a new EP called Red Faith Militia, this time for the prestigious label Sonic Groove. A conceptual work about the former Eastern Bloc and the ruling Communist government, it keeps all the militant qualities of Crystal Geometry's music, perfecting his craft in order to obtain a perfect mix of old-school EBM minimalism and modern songwriting. Synth sounds, syncopated rhythmic patterns, dark soundscapes and shouted vocals guide us among the sonic ruins left buy this aural assault.
The first track Social injustice welcomes us with sharp sequences and factory-line hard drums, underlined by eerie lines and aggressive vocals. The track explodes with stomping bass sounds and hypnotizing grooves, delivering a well executed mantra. Coldest october follows suit with its dark techno vibes and syncopated basslines, taking us in a world made of robotic vocals and steel-like rhythmic attacks. We are reminded of Adam X's style thanks to a fusion of proper techno motifs and old-school EBM traits. The result is another example of modern brooding techno with strong industrial characteristics and aesthetics.
Appropriating the means of production uses hypnotizing basslines and evocative synth-sounds, reinstating a sci-fi atmosphere with groovy traits. Different elements enrich the number, with the employing of hit-hats and almost tribal passages. A certain kind of old-school minimalism pervades the songwriting, but an even more adventurous approach is here displayed. Submission ends the work with a final round of dystopian techno with futuristic lines and grim underlines, among which a clockwork-like rhythm works together with modular sounds and frantic snare-drums. Malevolent soundscapes complete the track fueling the dramatic tension.
Another great EP for this upcoming artist making a name for himself in a relatively short span of time. His main formula has not been radically changed, but for sure new aspects have been added in this release. A skillful work on songwriting permits a sound which will conquer any industrial-minded dancefloor, like it has to be expected by a release under the Sonic Groove imprint. We are waiting for a full length.
Label: Sonic Groove
Rating: 7,5