Published by Davide Pappalardo on February 26, 2016
Haujobb, Dejan Samardzic's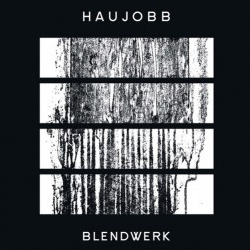 and Daniel Myer's project (originally together with Jünemann until 1995) is a presence that has accompanied different phases of European electro-industrial music since 1993; they started with a sound that reworked in a more technological and cold way Skinny Puppy's style (in a similar way to the compatriots X Marks The Pedwalk), but soon they traveled in other territories of the electronic spectrum, between Solutions for a small planet's IDM and the experimental and noisy tendencies of Ninetynine and Polaris, alienating some of the original fanbase and gaining new estimators together with the fame of a cerebral and "thinking" band, different from many colleagues of the same genre.
After some underwhelming works at the beginning of the new millennium, the band kept a long silence until 2011, when they returned with the acclaimed New world march, a work that linked a taste for epic industrial with a more songwriting-oriented elaboration of the experiments of the past in the form of a dark synthpop / EBM, giving us atmospheric and, why not, catchy tracks; now they are back with a new work, Blendwerk (Work of illusion, deception) under Negative Gain Productions's license in America and Basic Unit Productions's license in Europe. As we can easily expect from them this is a work that doesn't copy the recent past, repeating the same formula of the previous album, even if there are some common aspects.
Much space is given here to a minimalistic style, keeping an eye on the recent dark techno revival, without being a pure dancefloor-oriented work; instead, everything is creepy and subliminal, with an underlined atmosphere that reminds us of the more dry Cabaret Voltaire, the more electro-punk Portion Control and Klinik, and so of the Anglo-Saxon and Belgian EBM / industrial, based on few elements repeated in an obsessive and mechanical way. Anyway, we don't have to think to a product of pure nostalgia that simply follows the recent neo-oldschool revival that today is gaining so many attentions; a sequence of unmistakable elements, like the skills of Myer in building beats and sound-designs, recall the style of Haujobb, a project that changes from album to album, but that at the same time keeps its trademark.
Let's start with Completion and its dry and minimal beats, linked to steel-like synth lines, where the processed and charming voice of Myer is declined; soon, a refrain ala "Depeche Mode-goes-industrial" starts, showing us the two souls of the album, between metallurgic electronic movements and human rhythms. Vortex-like loops are a substrate from the charming openings while echoes ala Front 242 organize well-crafted EBM choruses.
Failures is introduced by chaotic and distorted noises that are a platform for a persistent rhythmic sequence; then we have an EBM bassline of the Belgian school, upon which the singer returns with a robotic and creepy line. The track is based on scaring and growing waves of sound, following an old-school crescendo with electronic tribal refrains and subtle digressions; the noises of the beginning return as a pause, and so we have a belligerent song that follows us with its techno darkness.
Input error welcomes us with a hammering and minimal synth sequence, upon which Myer's voice is layered, while robotic sirens surface on the structure; a growing and pulsating crescendo has its complement with a metallic drum machine, giving us an industrial / EBM moment, completed by the cutting, but at the same time charming, refrain. A certain kind of controlled tension dominates the track, playing with the mixing of militant beats and melodic openings; maybe the most "normal" episode of the album (and one of the singles, not by chance).
Little miss danger is characterized by a tense and dramatic atmosphere where the powerful basslines are developed together with the rhythms, in a nocturnal and minimal scenario where the voice of the singer narrates in a charming way his dark story; the rhythmic session is always growing in a minimal structure which is based even now on the addition of layers. Not many elements, repeated in a hypnotic way for a dry and minimal songwriting which links old-school and techno and IDM moments; everything, of course, supervised by that attention for the sound design that is the trademark of the project.
Meltdown is another minimal and nocturnal episode where shrilling synths and drum machines that sounds like they were coming from a factory are the creepy substrate for the futuristic voice of Myer; visions ala Blade Runner are made music by obsessive elements in a technological crescendo which doesn't attack, staying subtle. After half of the track the rhythmic session becomes stronger in an EBM moment akin to Front 242; we have here another one of the singles of the album which, in a short time, gives us a sonic narrative that is minimalistic, but not in low fidelity.
A peculiar work that probably will make some fans happy and that will let down some others because of its minimal approach and its partial retro nature; these elements will be exalted be the first kind of public and ostracized by the second as a sign of backward tendencies. Actually, like any work of Haujobb, this is nothing but a product of its time and its environment, with an always receptive Myer, who has never been an alien to the world of electronic music in a broad sense. But we don't have to think that this is an opportunistic product made just to exploit a trend; the project's professionalism avoids any downgrade, linking a clinic coldness with a never too on-the-front darkness that creeps between the movements of the songs and with the more direct and hypnotic refrains that surface from time to time, in a more devious and disturbing way.
Haujobb continues the work of renovation, between new and old, that started with the second decade of the new millennium, confirming its nature as one of the most interesting electro-industrial projects on the scene; here we have one the highest points in its discography, a work which requires many listening sessions in order to show its decaying and exquisitely monotone nature. Just listen to it in order to understand what we mean.
Label: Negative Gain Productions / Basic Unit Productions
Score: 8