Published by Alessandro Violante on July 22, 2016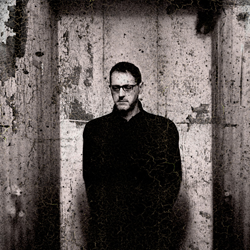 Today we propose to FLUX readers an interview with a musician that doesn't need to be introduced, Mahk Rumbae. Among the projects in which he's (and he was) involved, the most recent is mitra mitra (together with Violet Candide), but also Codex Empire, Ghost Actor (together with Corina Nenuphar), Konstruktivists (together with Glenn Michael Wallis) and Oppenheimer MKII (together with Andy Oppenheimer). A versatile and complete musician that moves himself among different musical genres with a charming talent: this is Mahk Rumbae. Have a good read.
1) Hi Mahk, let's start talking about your musical projects, and present yourself to our readers

I've been involved in music since the late 1980's, starting with some solo electronic projects (thankfully mostly unreleased), I then joined Konstruktivists in 1993. During the 90's I was also active in the drum and bass scene, and had a solo project Binary – which was in the IDM style of the time.  In 2000 I took a break from music for a few years and moved to Vienna. I started with music again about 7 years ago, rejoining Konstruktivists and forming a number of new projects like Oppenheimer MKII, Ghost Actor, and most recently mitra mitra and Codex Empire.
2) I think that you're a musician that succeeds in impressing a particular touch on everything you make: from minimal synth to techno, and also to the sound of Unfold. You succeed in impressing a unique trademark on your music. How do you succeed in working on these several different projects at the same time?     
I think this partly comes from a lifetime of obsessively listening to music, and having a pretty wide taste in terms of styles and types of music.
When working on music, I tend to immerse myself completely in one specific project for a certain length of time. This might be a few days, or sometimes a couple of weeks or months. I work quite quickly in terms of writing, sometimes coming up with two or three basic tracks in one day.  I then take a break of a few days and come back and listen to everything – deciding which pieces are worth pursuing, reworking ideas, and sometimes completely rejecting whole pieces.
Most of us listen to more than one type of music, so why limit ourselves to only making one type of music? Continually jumping between genres keeps the creative  process fresh for me – and also keeps me from getting bored, which is really important for someone with a short attention span like myself.
3) Lately, maybe the project for which you're best known is Codex Empire. Can you talk us about it in detail? What's the meaning of its name?
I started Codex Empire in 2014 as a side-project to explore the darker side of dance music. I had recently completed work on Ghost Actor and Konstruktivists albums, which were both quite slow, experimental records, and wanted to do something more upbeat and danceable. After hearing some of the more industrial sounding stuff coming out of the techno scene in recent years, it inspired me to combine the more atmospheric, darker music I was involved in with more intense, dancefloor rhythms.
The name itself has no particular meaning, it was simply two words that sounded good together.
4) That of Mitra Mitra is a very good album that, however, it seems to me that went a bit under the radar. Can you talk us about its genesis? How have you started your collaboration with Violet Candide?
We started working together in late 2014, when Violet came to my studio and we worked together to record proper versions of demos of songs she had written. Then I played her some unfinished instrumental tracks I had to see if she had any ideas for lyrics and vocals, which she did. As a result of that we decided to join forces and work together.  The initial idea was simply to have a studio project and work on a few songs, but then we started to get offers for shows. As a result of that we decided to self-release an album – which sold out completely in 5 weeks – which was a huge surprise for us.
5) The project most linked to the experimental character of industrial music is Konstruktivist, of which we have reviewed Destiny Drive. Can you explain us that album and, more in general, what do you want to express with this project? How much have you been influenced by Constructivism?
Konstruktivists has been around in some form or other since 1980 when Glenn Wallis started recording under that name. Since that time a number of different collaborators have worked with him as part of the project. Although considered as part of the 'industrial' scene – i think neither of us actually think of Konstruktivists as an industrial band – many of our influences, particularly now, are non-electronic, or at least not from the 'industrial' side of electronic music. Destiny Drive was recorded over around 18 months, and our first work together since I left England for Vienna in 2000. As we are now both in different countries, the album was put together remotely, with Glenn sending over pieces, samples, ideas and vocals, which I then arranged and developed into finished tracks.
Regarding Constructivism, Glenn is the best person to answer that as the concept was already in place long before I joined the project, but from a personal perspective, I've long been interested in the visual aesthetic of constructivist artists such as Malevich, Rodchenko, Lissitzky etc..
6) After some years during which a "new wave" of "minimal synth" projects found their way through the "music market", a part of them is now disappearing. According to you, what will remain of this phenomenon and what its evolution will be?   
As far as 'minimal synth' is concerned, I always liked that kind of sound since I was young – early Soft Cell and Depeche Mode, Vice Versa, but actually I had absolutely no idea that there was a revival of that sound until I started working with Andy Oppenheimer in 2012.
As for evolution – music goes in cycles whether in the mainstream or underground scenes.  Styles come in and out of fashion, and some bands evolve and mould their music to what is currently 'in', while others keep to their original sound or concept.  Neither is right or wrong in my opinion, but I've long since given up trying to predict what will come next in music..
7) With Codex Empire, your music has been selected for several "techno industrial" dj sets, a genre that is now knowing a certain "success" everywhere, also in Italy. How and in what measure industrial music can hybridize itself with techno and vice versa?    
Despite the fact that I listen to very little techno music these days, I actually think  that the techno scene is one of the more open-minded areas of contemporary music.  There's a healthy culture of experimentation, and to be honest, a fair amount of what's coming out on some labels in the techno scene have more in common with industrial/experimental/noise music of the 80's and 90's than what most people would think of as techno, and that's a pretty interesting development.
From the other side, industrial music has always had a dance music element, which can be traced back as far as TG's Hot on the Heels of Love and onward to the early EBM pioneers like Front 242, Portion Control etc..
8) Let's talk a bit about the newborn Micromort Music. Do you think to produce also other projects works with this label, or is it only linked to Mitra Mitra? If you have plans about its releases, can you tell us something about it?  
Micromort was started with the sole purpose of releasing the mitra mitra album, and was not intended to be a 'proper' label. Running a small label is a huge amount of work – which for us takes time away from actually making music.  I have a lot of respect for those who run labels as I know how much time and energy it takes to do it properly. We hope that the future mitra mitra releases will find a home on an established label.
9) Do you prefer working in the studio or performing live? When will you play in Italy?   
Even though I've been recording and playing for 25 years, it's actually only in the last few years that I've actually started enjoying performing live. In the past I would actively avoid playing live wherever possible, as I found it extremely stressful. I think now I'm a bit older I've become a bit more relaxed about it.  I've never actually played in Italy, but hopefully this will change soon!
10) What are you working on at the moment?
I've just finished some Codex Empire remixes which will be out in the coming months…  A new Codex Empire EP will be out on Layla after the summer, and some new tracks and remixes are in the works for release later this year.   mitra mitra are also back in the studio. Violet Candide and I have already completed around five songs for the next mitra mitra record, and are in the middle of writing some more….