Published by Davide Pappalardo on October 6, 2019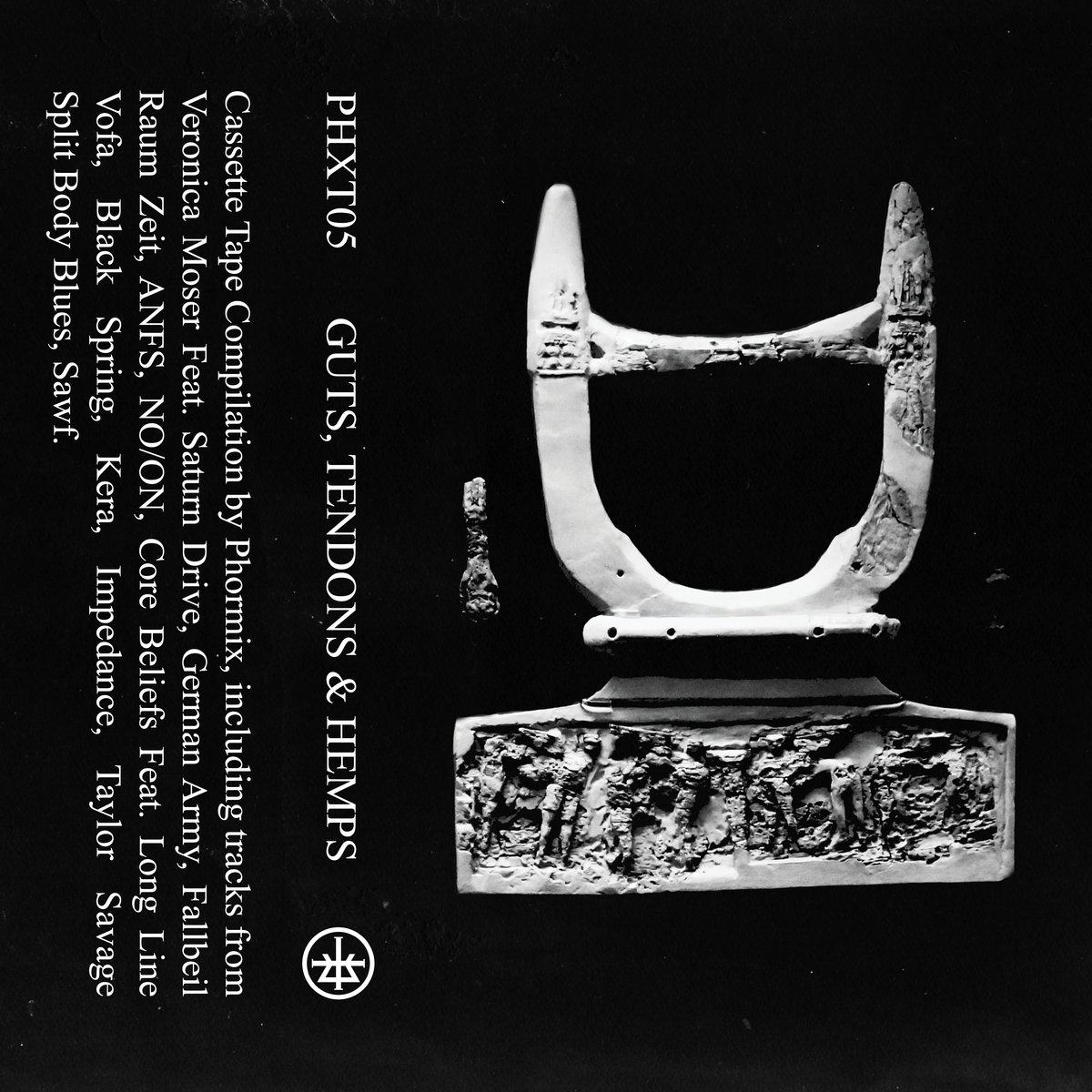 Greek label Phormix Tapes is a rising name in the underground world of caustic and grim electronic music. Since 2016 it has been delivering great cassette compilations as Values & Morality (featuring Umwelt, Anfs and Sawf among others), Light Of Consciousness (Helena Hauff, Morah, Restive Plaggona, Autumns) and Waves Led The Night (Claudio Simonetti, Notausgang, Alessandro Adriani), as well as works like Black Spring's Wet Dreams For Platonic Friends and Outermost's Upon Different Degress. Techno, synthwave, experimental, noise, are some of the genres featured in its ever growing discography.
Guts, Tendons & Hemps is the fifth compilation so far, a 15-track cassette exploring the harshest and darkest sides of electronic music. Expect distortion, throbbing and sharp bass-lines, hard rhythms, obsessive bass sounds – elements celebrating the current underbelly of experimental techno music and its cohesive but mutant nature. Grinding atmospheres and a sense of menace will guide us among this dark scenario made for our (deviant) pleasure.
Veronica Moser and Saturn Drive unite forces in Call of the void, a hypnotizing mantra with creepy vocal samples and droning noises. A malevolent vocal delivery shows itself like a ghost amidst the night, while the obsessive tension slowly grows together with Veronica's voice. German Army surprise us with 2 tracks showcasing a harsher than usual nature: On the fingers remind us of Dive with its minimal sound full distortion and reverb, an acid and dystopian pastiche with lo-fi soundscapes and a crawling structure, Dario uses a monolithic marches enriched by dissonant anti-melodies and suspended atmospheres.
Fallbeil's Klerasil testgelände rediscovers the world of proto-electro-industrial, recalling the first efforts from Skinny Puppy and Portion Control's experiments. Gray motifs, hoarse and shouted vocals, mechanized rhythms and ominous compositions are the main course of a track which showers itself with irregular time signatures and syncopation. Raum Zeit conjures in Rum Bum a sharp industrial-techno movement with dark sci-fi undertones and rhythmic cymbals, while Anfs' Psevdesthisis delivers a punishing and destructive mantra with riffing distortions and almost cinematic crescendos – not surprisingly exploding during its second half in a triumph of dissonance and controlled aggression.
NO/ON chooses in Agdistis a sort of industrial-funk motif upon which evocative chants are layered, mixing eerie atmospheres and devastating deliveries, Core Beliefs and Long Info Line give themselves into the world of old-school rhythmic noise with Cougar, a droning episode with distant vocals and rigid rhythmic structures. Vofa returns to techno atmospheres with Garuzo and its stomping bass and snare-drum, without forfeiting grizzly elements and corrosive layers, and Black Spring once again guides us with Mansour joyce patricia ades in its power-electronics themed dimension with female vocals and fetish nuances.
Kera's Human stench is a club track with a lysergic production and looping rhythms, changing course only briefly during its duration, a candidate for underground late-night dancefloors, while Impedance evokes in Stray kids late 70's-early 80's experiments with synth sounds, as well as rhythmic IDM mantras mixed with noise, a bombastic and syncopated number. Taylor Savage's Risk 3 fuses ambient melodies and coarse rhythms, deploying sci-fi videogame sounds and obsessive bass sounds too – one of the most surprising moments in the compilation.
Split body blues' Blow your wad sounds like Boy Harsher under heavy drugs, a perversion of darkwave motifs and post-punk atmospheres by the courtesy of muffled vocals and steel like kicks, driven by a strong rhythm, and Sawf indulges in dark techno with Aradamu and its pulsating grooves made of futuristic arpeggios and deep ambiances, violated by militant drum machines. This track is another perfect example of the current sonic world which mixes the acid side of techno with industrial elements.
Another great compilation giving exposure to some known and not-so-well-known names, as well as totally new projects. The main theme is a grim, harsh sound with dark atmospheres and stomping, obsessive rhythms, the dark face of current European underground electronic music. The soundtrack for a generation that grew up in a pessimistic environment, losing more and more hope in a world killing itself everyday. A meeting for the end of time, a sonic expression of dark times and a real no-future attitude, a danse macabre for clubs full of smokes and dim lights. Or, if you are not the philosophical one, a collection of tunes for the lovers of electronic music with distortions and brooding atmospheres.
Label: Phormix Tapes
Rating:8