Published by Davide Pappalardo on February 24, 2019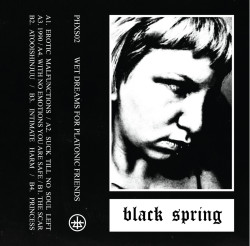 Black Spring is the industrial noise project of the Greek multimedia artist Μάνος Χρυσοβέργης (Manos Chrisovergis) of Last days of S.E.X, In Flagrante Delicto and Solar Anus, hosting vocals from Kristin Laszlo. Its sound it's a mixture of grinding noise/industrial soundscapes, brooding structures and malevolent female vocals, evoking a world made of dark and aggressive eroticism and caustic atmospheres.
After the first cassette Love Through Discipline (No Danger No Beauty, 2017) he returns with the new tape and digital album Wet Dreams For Platonic Friends, an 8-track voyage into sordid acid dreams and sleepless, sweaty nights, published by the Greek label Phormix. Sharp, abrasive distortions and alarming noisescapes are the main elements of the sound showcased, sometimes underlined by the aforementioned female vocals.
Erotic malfunctions deceives us with its loop of accordion, an intro characterized by lysergic reverbs and ethnic drums, before it dwells into shrilling effects and droning glimpses of noise. The track then evolves, becoming a noise/industrial number with sampled female vocals and sharper distortions. Suck till no soul left is introduced by an apocalyptic lines and thundering drums, completed by distant industrial sounds and a cold delivery by Kristin. Her monotone, droning voice moves among the crawling crescendo made of controlled tension, underling a growing menace ready to resurface. During the second half, the track goes into even nosier territories with minimal electronic sounds and grave movements.
With no emotions you are safe is an obsessive loop full of reverb and slow but ominous rhythmic patterns, an industrial number recalling 80's old-school with its nightmarish atmospheres and minimal setting, while The scar combines grinding electronics and serpentine female vocals; a malicious aura engulfs the track, keeping us on the edge with its factory-like industrial loops. After the third minute it climaxes with sharp distortions and brooding motifs. The final episode Princess in an exercise in filtered and manipulated sounds, starting with a mutate melody accompanied by shrilling effects and different kinds of samples. The second half sees sudden rhythmic paths with a hidden nature, collapsing into a brief disturbance before its end.
Wet Dreams For Platonic Friends is not an easy-listening experience or a club-oriented rhythmic noise affair. Here we find pure industrial/noise soundscapes with abrasive sounds and antagonistic structures, linked more to the first experiments in the genre, than to the modern takes on it. Sometime we are guided by it, sometime it grind us into a pulp with its vortexes made of splinters, but we are always fascinated by its strange and dark world which evokes acid nights and hidden aspects of human sexuality.
Label: Phormix
Rating: 7