Published by Davide Pappalardo on April 26, 2020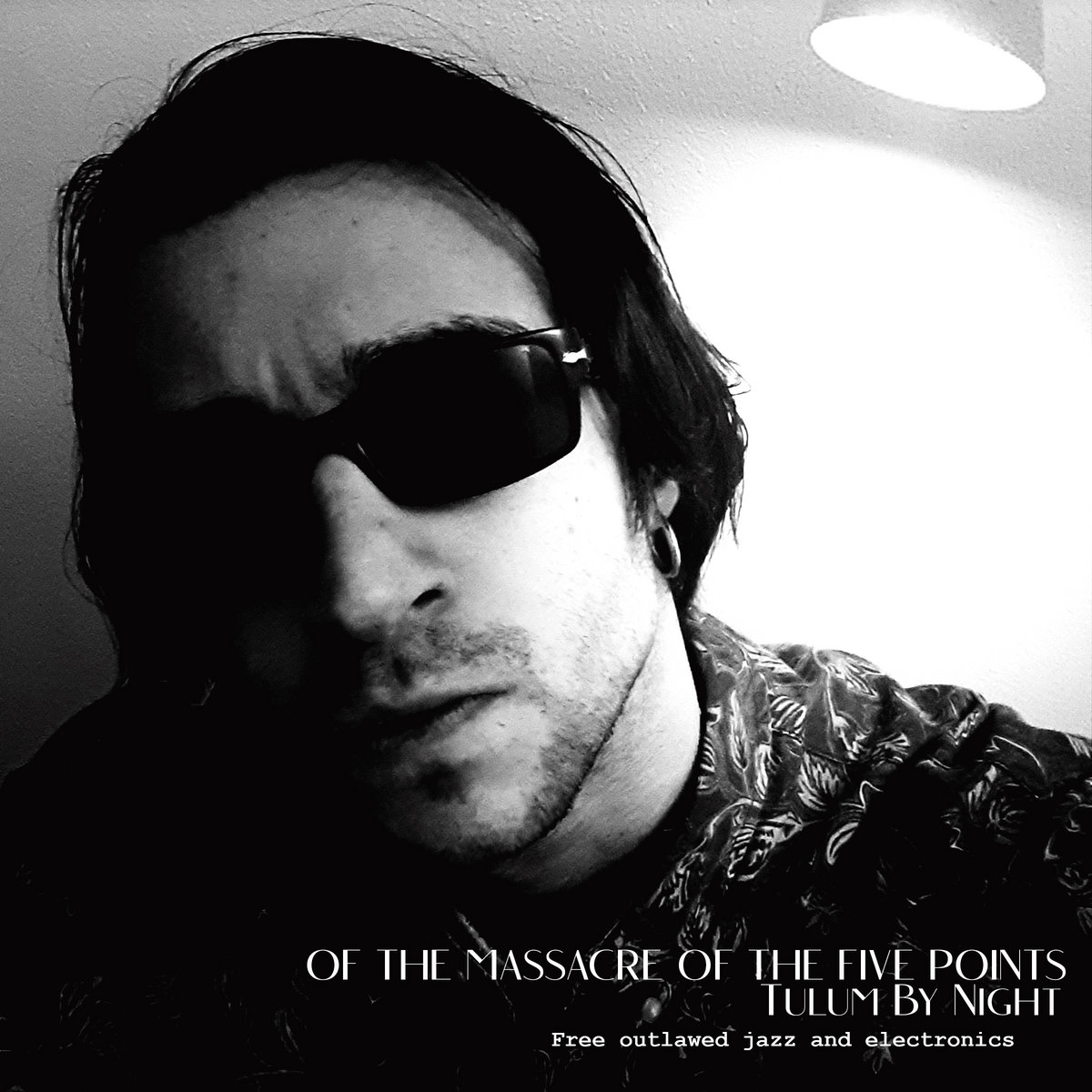 Of The Massacre Of The Five Points is the new project of Alessio De Felice, the mind behind No-Nation and previously Tara In Tibet and DJ $LUDGE. The Berlin-based Italian artist has a multifaceted identity, moving between traditional music and new forms of expression. This new project is no different, mixing a love for noir atmospheres, jazz sounds, noise and art-perfomance in a classy yet ominous character, a sort of harsher and broodier take on David Lynch world.
The first output Tulum By Night is a self-released 5-track cassette/digital release exploring this new dimension and showcasing the vision of the artist. Doom jazz, droning parts, lo-fi elements, noise, tasteful piano parts, become the facets of a narration in sound and words, an imaginary black and white movie with love, pain, deception, eroticism.
Lady billy is a harsh introduction full of reverberated cymbals and snares, underlined by sax dissonances and creepy, filtered vocals coming from the underworld. A malevolent atmosphere full of suspense is enhanced by a noisy stile playing with suspended sounds and rhythmic obsession. Gold is your shower before it bleeds is an eerie noise pastiche with droning, static effects and barely human vocals, a sort of reinterpretation of power electronics modus operandi in a way fitting the narrative of the work. It climaxes into a wall of noise encapsulating an inner delirium.
Just you and I (the dark room clubmix) returns to a noir world with slow, jazzy movements and elegant piano notes. Alessio starts a soulful vocal performance with a crooning taste, talking about a dark love story while moving amidst sudden vibrant effects. The track crawls with a cinematic feeling once again evoking a world of old, and the sax parts give us a perfect companionship. Bonnie and clyde is a droning affair where shrilling elements become the base for distant piano melodies and cosmic electronics, a seductive episode doomed to collapse into distortions. A "cyber-noir" pastiche with a sci-fi/pulp gusto.
Obsessive vices ends our journey with harsh noise sounds giving us no respite, a destructive mantra perfectly showcasing themes of self-destruction and no happy ending. The noisier and harsher side of Alessio is fully displayed in a counterpart to the core nature of the work.
Tulum By Night is a courageous work eschewing fast-appeal and fashion in music, highly influenced by the work of projects like Macelleria Mobile Di Mezzanotte and Senketsu No Night Club. It takes some intuitions present in his works as Tara In Tibet and the project Sun Dogs and further expand on them, adding a nor-jazz feeling. The result is a peculiar kind of post-industrial music where the past, the present, and even the future collide into a surprisingly coherent experience.
Label: self-released
Rating: 7,5