Published by Davide Pappalardo on March 2, 2019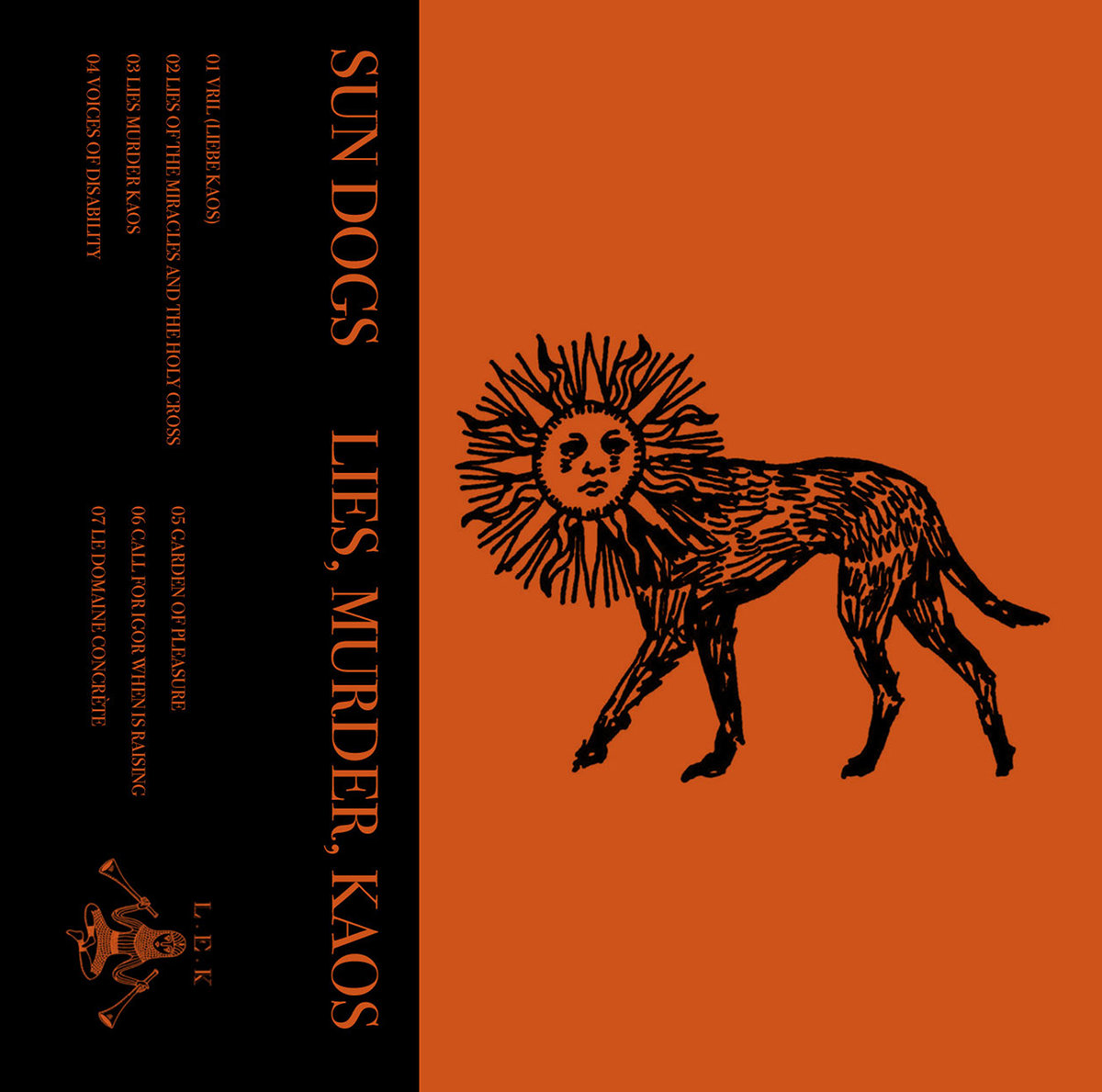 Sun Dogs is the new project of Alessio De Felice (Tara In Tibet, and one of the minds behind She Lost Kontrol and the owner of Last Europa Kiss) and multi-media French artist Alison Flora. The duo explores experimental sounds moving among dark ambiances, droning sessions, psychedelic elements, minimal tension and neo-folk vibes. All of this is expressed in the 7-track cassette Lies, Murder, Kaos, a work picturing a lysergic world made of electronic substrates, industrial rhythmic obsessions, and an esoteric undertone which dominates the various tracks.
Vril (liebe Kaos) is the first track, a pulse guided by strong rhythms and evocative ambiances, upon which vocals full of reverb are layered. A slow movement is here conjured, giving us a minimal structure with droning qualities. Lies of the miracles and the holy cross changes course, employing gentle guitars and a folk sound. Alessio sings in a crooning way, while Alison sudden choruses enrich the music palette; the general atmosphere is relaxed and languid, but there is during the second part of the song some hidden tension in the vocal department.
The Title track offers steady snare sounds and pounding drums, while mysterious voices build up a diaphanous atmosphere. Alison enter the scene with her aggressive vocals, while abrasive lines evoke a grimier soundscape. Voices of disability plays with minimal electronics and whispered vocals, recalling old-school experiments with its droning synth-lines and sci-fi effects. The episode grows into a dry rhythmic pattern accompanied by grooving sounds.
Garden of pleasure is a mixing of neo-folk vocals, slow martial drums, and fractured 80's sounds, interspersed with guitars and sudden rhythmic attacks. An experiment recalling the more evocative side of Boyd Rice. Call for Igor when is rising is a simple folk pastiche with a lopping guitar sound, female choruses and Alessio's crooning voice. A 2-minutes voyage into a soothing atmosphere with the usual hidden elements of tension. The final track Le domande concrete ends the work with abrasive layers and crawling drums, conjuring a dark ritual upon which speedy snares and a steel-like percussion are layered. The mantra guides us until the last second.
A very interesting cassette with different takes on dark electronics and folk elements, using both of them in order to give us a sonic world with esoteric undertones and mysterious atmospheres. Even if most of the tracks have a short length, they never feel incomplete or unfinished demos. Every episode concurs to a coherent motive alternating calm moments and broodier passages, and the borders between genres are often crossed. If you are interested in experimental sounds with a theme and well-crafted tracks, this is a work you will probably enjoy.
Label: Last Europa Kiss
Rating: 7,5