Published by Davide Pappalardo on February 16, 2020
Today we present the interview with Maurice Pinkster, head of the project Cubic Nomad and founder of  doomcore/industrial hardcore label Dark. Descent. We've talked with him about the label, some of its outputs, its style and mission.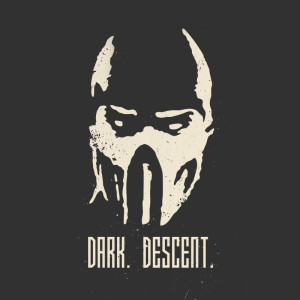 Welcome on Flux and thank you for your time! Dark. Descent. is an iconic name in the world of underground hardcore/doomcore with strong industrial leanings. Your music, aesthetics, ethos speak of real passion. Would you like to tell us the story of the label?
Thanks Davide! Well, I (Maurice Pinkster: founder of the label) have always been into electronic dance music from the early nineties on and started producing a couple of years later. After releasing via several labels and different companies I wanted to be independent and manage everything: I restarted Dark. Descent. in 2011 (the label had already been founded in 2006) in cooperation with Noisj who did the financial part. In 2016 Dark. Descent. became totally independent under the umbrella of Room 23 Music, the company I had started also in 2016.
My vision of music was shaped in all those years of producing and buying records. I have always loved the darker side of music. I already had some favourite artists in mind whom I approached for the label and after a couple of releases the demos started coming in.

I would like to know about your sublabels Dark Industry and Spirit Of Progress too, in what way are they different from Dark. Descent. ?
Spirit of Progress is a label I originally created back in the days when I was still producing at AMP International (the follow up of 80 AUM Records). It was a cooperation with Phuture Rave from London and was the home for my alias Maui Pentocosto. When Dark. Descent. was running I restarted Spirit of Progress to release music with a stronger techno vibe than that on Dark. Descent.
Dark Industry is an outlet for experimental music which does not fit anywhere else, music out of the box, mostly not the floor fillers or steady beat tracks. It's open for IDM, industrial, breakcore, drum & bass & whatever styles. The name is taken from a podcast for the Ben Harder Show, the radio show which I co-founded.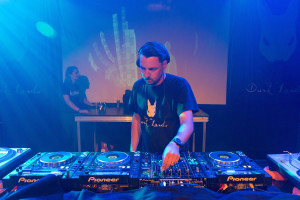 I really love the graphics of your output, they have a perfect dark futuristic vibe with a sort of brutal elegance. Who is (or who are) the author behind them?
The cover design is done by R23. We are doing the design for all labels and logos. The images of the Dark. Descent. covers are drawings by different artists which we adapt for the signature style. Yet, some albums had other designers, for example the Embrionyc albums were done by Alina Hessel.

In 2012 you published one of the most interesting albums from Somatic Responses in the form of Tachyon Attack, a perfect mix of IDM, industrial and hardcore music. Can you tell us more about how it came to be?
I can't remember the exact way we did it, but I know I approached them for a release on Dark. Descent. after we had contact about another release or remix. They came up with a bunch of tracks and in the end we had the album ready. I'm not a fan of labelling music so the genre-crossing legends Somatic Responses were a perfect example of a class act combining many styles. Later they also did a release for the labels Dark Industry and Zuur.
Recently you have published Human Machine by Corner, which I find a really great work standing out in the current panorama of industrial hardcore due to an astonishing work on production and sound-design. How did you get in contact with him?
Corner was already releasing on Traumatic (the Belgian doomcore label) and he contacted us for a release. So we released a 4-tracker on Dark. Descent. After that he worked on an album which resulted in Human-Machine. He has his own style, but is influenced by the music and vision of our music and visuals, so that adds an interesting twist.

Another work which got my attention was the single Sorrow's Shapeless Rhyme by Mute. , a very peculiar one with ambient and experimental elements, available only together with your compilation Collected: Into The Dark Lands – We Are Family (more on that later). Can you tell us about the idea behind it?
I knew Mute. from my time at SYMP.TOM (Mid-Town Records) and we kept contact over the years. When the idea for Dark. Descent. 100 emerged I contacted about a contribution to the project. His vision on music isn't very dancefloor related so he came up with this extended track and we decided to release it as an exclusive CD single as part of the 100th release of Dark. Descent. We have some plans with Mute. for a future release on Dark. Descent. Btw.: Mute. did the artwork himself and came over to the office to handstamp all the CDs himself!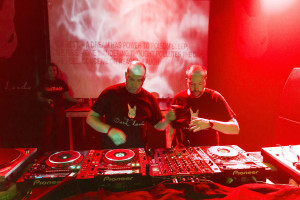 So, about the Compilation: It's a collection of big names, but it feels as way more of that, like a group of friends – a family indeed. Is it a manifesto for your label?
We are a small scene so we all have contact with each other and help as much as possible. Nobody has the intention to make a lot of money with their music, so it's all about creativity. When we all meet (friends, artists, fans) at a bbq or at a party like for example "Into The Dark Lands" it feels like a real family. An especially close connection exists with Kevin of Traumatic/Haunted, we support each other with the management side of things as well.
We all do it for the love of the music, like Sascha, who does the promo write-ups for our releases, same there. The people who are into the industrial styles are a diverse crowd, but in one room it is one big family, that is what I like about this scene!

 What does the future hold for Dark. Descent. ?
I want to continue releasing music as long as it is financially possible and of course as long as there is the music. In the past I almost gave it a rest a couple of times, but the love for the music always wins. I hope the artists who are releasing at the moment will continue their quest and the support of the fans will keep growing.

Thank you again for this interview. Anything you would like to add for our readers?
Thanks you guys also for the interview! I hope people will keep supporting the music, labels and artists by buying their releases and merchandise so they can continue to produce and release new stuff. We have an awesome scene worldwide, one family. Thanks for that!