Published by Davide Pappalardo on April 13, 2020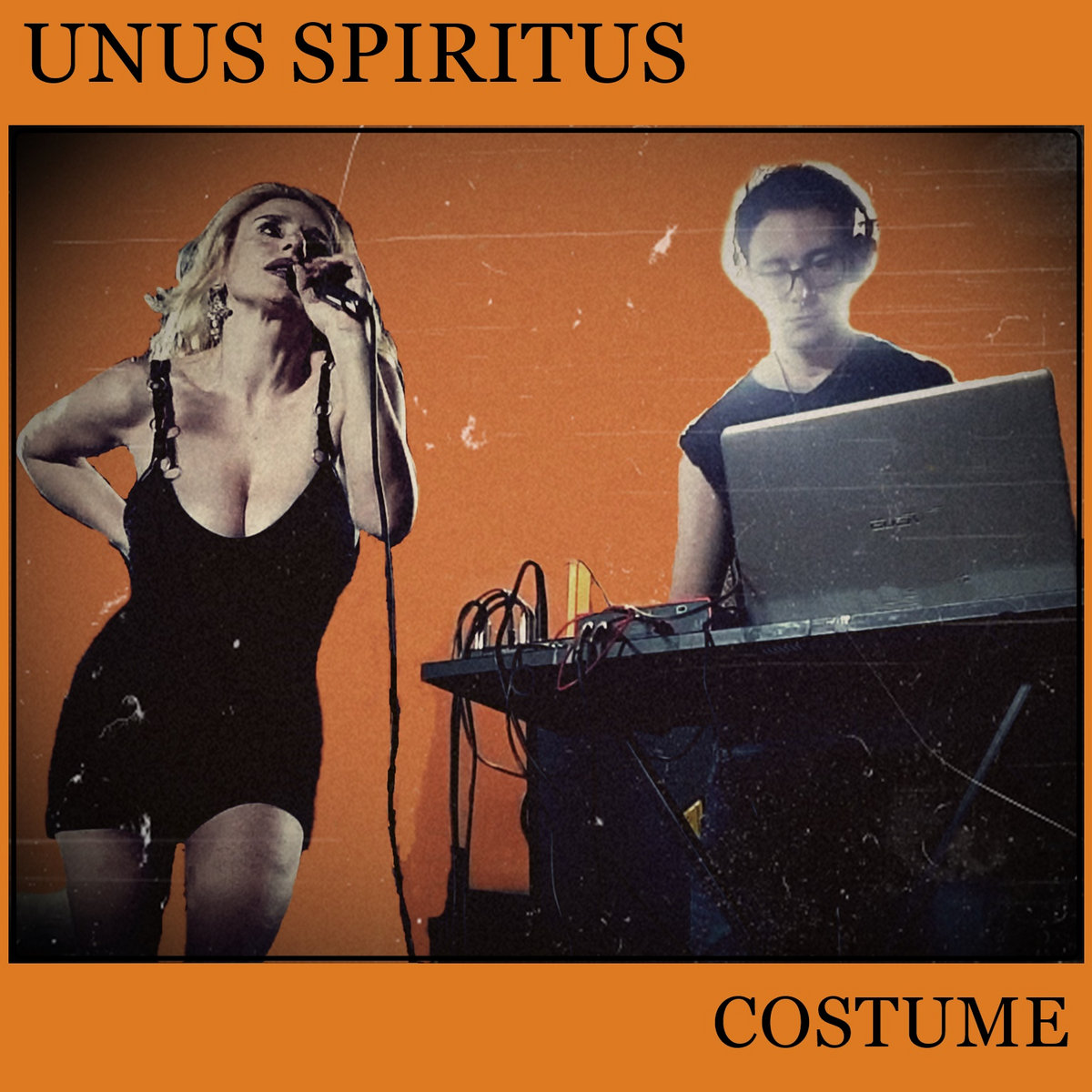 "an album during Coronavirus times". This could be a perfect presentation for Unus Spiritus, the new self-released 16-track effort from Italian synth/electro-pop duo Costume, aka MauSS and Claudia Placanica. A peculiar work made of reworked b-sides from previous sessions and vocals recorded via smartphone. The sound is in line with the duo's style, in which techno, house, synth-pop conjure an elegant, rhythm-based, sometime dark kind of electronic music.
The concept of reworked songs is not something new and somewhat present in the project DNA since the beginning: they did during their career remixes for Angie Bowie (ex wife of David Bowie), B52s' Fred Schneider and Steve Strange of Visage.
The overall sound has a strong analogical feeling, we find the use of a drum machine 2 sequencer and a synth korg m 20, as well a Korg volca, a Yamaha Rx 11, and a Technics PCM DP 50, and the atmosphere is "rougher" and mechanical if compered to the previous album Natural Burella. Anyway, hypnotizing synth-lines and lysergic elements are not forgotten, and Claudia's delivery pays tribute once again to Matia Bazar and Donatella Rettore without any plagiarism.
The sky split in two starts our voyage with strong rhythms and pounding bass sounds, in a frantic scene completed by Claudia's crooning vocals. The track is a club-oriented assault with evoking synth parts and retro moments. Wavering certainties offers a subtle tech/house influence with broken rhythms and vibrant electronics. A crawling structure keep things restrained, playing on suggestion instead of bare aggression.
A great mix of lights is an acid episode with a steady bass guitar line and pulsating beats spread on it, creating the base for Claudia's alluring voice, while Duel love is a throbbing modern synth.pop affair with droning synth sounds and engaging rhythmic patterns with a marching taste. Vocal refrains enrich the melodic palette of the track, as well as the shrilling keys.
Snake is an instrumental pastiche graced by almost cosmic lines and an obsessive percussion, suddenly violated by sharp, spiraling analog-synth motifs. A track strongly reminiscent of late 70's and early 80's electronic music. I caress the shield introduce an electro-punk spirit with guitars and organic drums sound accompanied by cymbals and strong riffs. Claudia has the chance to show her punk roots with an enthralling style perfect for the guitar-driven climaxes.
I will dry the nightmares is a dark episode with distorted basslines and hard kicks, an ominous ambiance rich in menacing effects and whispered vocals. Old-school electronic sounds add a robotic vibe offering a dystopian taste for the number, while coarse keys give us a hint of malevolent melody. Voices from the otherside follows suite with its hidden vocals and crushing drum machine, once again displaying a harder sound, but without forgetting a lively "funk" undertone in the songwriting.
Miss Lonely Hearts sees a rework of the track from alternative rock band The Pink Diamond Revue, becoming here an evocative ambient episode suddenly interrupted by distorted and detuned guitars. A mix of post-rock vibes and electronic instrumentals conjure one of the most experimental moments on the album. You are a bad man ends the album with a track full of pathos, strongly reminiscent of Kirlian Camera in sounds and vocals, rich in melodies and emotional synth melodies.
Unus Spiritus is a very interesting work born out of the necessity for artistic expression during rough times, with an experimental take on the duo's sound due to the nature of the production and the circumstances surrounding the tracks. It sounds old-school and dark, often characterized by broodier synths and menacing yet charming vocals, and the minimal structures of some tracks give us a bare and lonely rendition perfectly fitting the quarantine theme.
Label: self-released
Rating: 7,5