Published by Davide Pappalardo on January 20, 2020
Today we interview the synth-pop/disco-wave duo Costume (Marco Cozza and Claudia Placanica) about their history and music, their inspiration, influences, and projects.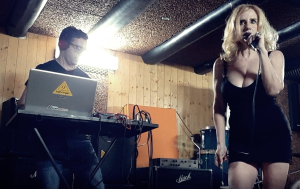 Welcome on Flux and thank you for this interview. Costume is the name of your project with Claudia Placanica on vocals, an outfit dedicated to suggestive electronic music with wave, dance, pop, and even other kinds of influences. What can you tell us about it? How was it born?
Costume is a synth-pop/disco-wave duo composed of MauSS (groovebox, sequencer e drum machine) and Claudia Placanica (voice, lyrics). The first formation was born in 2012, when Costume (at the time there was Tommy Box, Claudia would arrive in 2018) debuted with a show at a library in Salerno – followed by a tour of more than twenty dates as supporters for Die Selelktion, Der Noir, Nincha Lee, Ayrat and Neo.

Natural Burella is the name of your last effort, an album informed by dark elements as well as elegant 80's sounds and even some experimental takes, graced by Claudia and Steven Jones' vocals. Can you tell us more about its conception?
"Natural burella", released on the label Etrangers Musique and produced by Steve Jones (who sings on two tracks from the album) and Logan sky, both of them collaborators of late Steve Strange (frontman of Visage), is an album with techno house atmospheres and dark wave sounds and vibes. The eight tracks from "Natural burella" consolidate our already established character via the aforementioned elements, but they explore without fear cultural and spiritual boundaries. It's not by chance that the title recalls the underground tunnel walked by Dante and Virgil which would have guided them from Hell to Purgatory. The idea of space-time travel translates in aiming to capture suggestions coming from worlds seeming so distant, evoked by sound and voice which, in every track, go in different places (samba, mediteranean musi, new wave). From Nightmare" to "The Briseis song", the opening and closing tracks, the rhythms guide the listener from tchno house darkness to bright dimensions without time. The elegance and versatility of the sounds plunge us in a quasi-utopian experience recombining different sensibilities in a testimony to the spiritual qualities of modern music.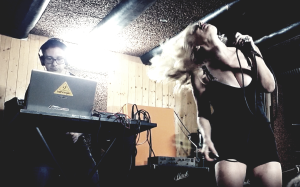 I would like to know from you about the composition of your tracks: How does a Costume track come to life?
Costume's tracks are born in my home studio between many synths and drum machines, sequencers and different modules. Then, Claudia works on them with her voice.
You have done many important remixes in the past, even for famous names like Angie Bowie (ex wife of David Bowie), B52s' Fred Schneider and Steve Strange of Visage. What can you tell us about them?
I remember among the many remixes I did, the one with Steve Strange's voice. It has never been released due to his death just one week after the work was finished. I jealously keep it on my pc, his voice gets me in a strange way, it's like a ghost in the machine who would like to tell you something. The other remixes were quite easy instead, especially the one for Nude, Captain Swing, and Meg of Italian band 99 Posse fame. They are personal acquaintances, you know…
What are your influences? What music inspires you?
There are multiple inspirations, and not only from music. We are a duo, so it's easier to value differences and affinities: each one of us brings his own cultural heritage without conflicts.We have many affinities in music taste (Cabaret Voltaire, Prodigy, Aphex Twin, Kraftwerk, 80's new wave and much more), but in movies too (David Lynch over all); of course there are some personal preferences, but everything concurs to an unicum in which the heritages find their place where they become a story: Costume, not only a music duo, but a creative, aesthetical, expressive urgency aiming to searching not only the new, but what already exists unexplored, too.

You have done live concerts and toured with Neon Der Noir and Die Selektion. How important is the live dimension to you?
I think live sets are the most important think for any artist: it's an exchange of energies you have with your pubblic. I really believe that. I strongly recall Die Selektion being very nice and kind, they were already dead drunk whe they arrived at Forte Canale. I gave them two of my solo labums as a gift, and in return they didn't just give me their t-shirt…they wanted to cut my hair too. I refused. I shared stage with Noir twice, we are friends. I often call the guitarist Manuel. I ask him a piece of his mind about business, many times. And then, Luciano Lamanna is great. He has an incredible studio with so many drum machines and synths…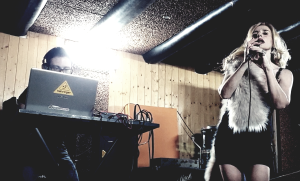 What does the future hold for Costume? Next project?
We have almost finished a new 12-track album called "Kosmos". We found the title quite soon because both of us da the sensation we were crafting something distant in time and space. We felt like we were the chosen medium of an ancient civilization where Hellenism meant the possibilty of explaining the greatest cultures in the world. In "Kosmos", which will be out during this year, the title song recalls the story of Hypatia of Alexandria and it's sung in Greek. The production is very moving, but I don't wnat to say too much about it. "Kosmos" will be the album of maturity for the recent formation. We made the music we would like to listen to: sensual, elegant, modern, but with strong artistic and cultural roots. A complete work in which our two souls combine. There will be a manifesto-track called Costume with new instruments and a very mature sound, it will be difficult not to dance to it.
Thank you for your time. Anything you would like to add?
Costume lives in our time without nostalgia, looking forward, but back too. Music memory is developed during the years thanks to the addition and listening of different things. The past is a mine from which we can take something: you can go beyond it or cite it, but it shouldn't become a déjà vu. We often try to create peculiar sounds via mastering. We confront each other during any part of the work on every track, as well as during the final production. Our own heritages become a pastiche of reality-percepition and ways of expression, a synthesis of two post-modern views: te futuristic one, the super-technological, and the tradition. A world inhabited by replicants with basically a malincholic soul.