Published by Davide Pappalardo on September 29, 2019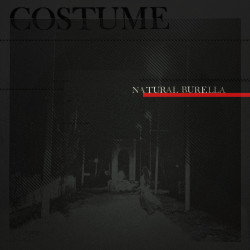 Costume is an electronic music project founded by Tommy Box (voice) and MauSS (music), dedicated to peculiar and mutant sound in which electro-pop, techno, house, and other elements collide into a vigorous yet melodic style where the boundaries between experimentation and pop sensibilities are tore down. In 2013 they published their first EP Faberooni and their remix album featuring Stephen Jones and Donna Destri (sister of Jimmy Destri of Blondie fame.
They even started a career as remixers, working for Angie Bowie (ex wife of David Bowie), B52s' Fred Schneider and Steve Strange of Visage, and toured with Neon Der Noir and Die Selektion. Recently, 80's punk icon Claudia Placanica has replaced Tommy Box giving a new vocal dimension to the band, as seen in the album Brain Bang of which the track Nightcrushing has found  global success.
Now they have released their fourth album Natural Burella on Estrange Musique, a work informed by many different influences: techno, house, new wave, samba, and even Arabian music. The result is an elegant and stylish work with its own soul, escaping the cliches of both underground and mainstream and following its own muse and volition.
For example, the first track Nightmare surprises the listener with its dark undertones and grim soundscapes, giving us an intro full of tension and suspended effects; the following number I only see is like light opposed to the previous shadow, a loping mantra with synth-based pulsations and suave vocal performances full of evocative pathos, The track slowly grows with serpentine snare drums and majestic arpeggios, reaching during the second half a techno-house climax.
Ghost in my secrets features Steven Jones as the lead vocal and harder, syncopated drums underlined by suggestive bass-lines and electro tensions reminding us of modern techno-pop. Ominous sounds are skillfully placed in the background conjuring a dark yet enthralling atmosphere. The mutant nature of Costume permits different voyages in different sonic worlds never giving up quality songwriting.
But to think this is just a club album would be a big mistake: Sunrises, sobs of my days is a ritualistic and droning episode with rhythmic percussions and mysterious atmospheres perfectly completed by Placanica's voice and her crooning and whispering style, while Notte di perla plays with minimal wave melodies, riffs in loop, and lyrics in Italian sung with effects and a full displayed emotion – a track reminding us of Italian "noble pop" names like 80's Matia Bazar and Donatella Rettore.
The ending track The briseis song is a perfect club number with steady bass sounds and crawling snares, accompanied by groovy arpeggios and dramatic synths. The emotional crescendo and the female voice remind us of Kirlian Camera's early days; another number deserving international attention from different scenes and styles, and that could be placed in many kind of sets.
Natural Burella is a work of a kind, a collection of different facets informed by various styles, but always enriched by love for music and an all-encompassing vision interested in sincere expression, not genres or statuses. An open-minded listener will find here a treasure to revisit many times in order to discover new expects and motifs – a professional songwriting gives us well structured moments as well as straight bangers. A recommended work.
Label: Etrangers Musique
Rating: 8