Published by Davide Pappalardo on July 8, 2020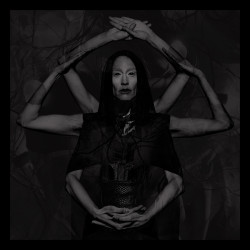 Bestial Mouths is one of the most important names in the modern darkwave/electro-goth scenario, a project characterized by EBM, industrial, minimal synth elements. Their last work INSHROUDSS established today's form of the outfit as mainly Lynette Cerezo's expression, an experience driven by her ritualistic, theatrical voice which evokes the strength of artists like Diamanda Galas and Siouxsie Sioux while keeping her own character.
The band sees the presence of Alex DeGroot of Zola Jesus' fame and Brant Showers from SØLVE and Aaimon, both of them adding to the sound a cathartic, atmospheric yet fierce vibe. The result is a sound moving between operatic moments and beat-driven attacks, a stage for Cerezo's performance.
Now they return with RESURRECTEDINBLACK, a full length expanding upon the course started with the previous EP. Post-punk roots meet strong dark EBM/electro-industrial undertones, while an elegant sense of darkness and grief dominates the work. A narrative made of thoughtful moments and sudden burst of desperate energy guides us in this unique experience.
The falls is the welcome parade we are subjected to in order to face our loss and pain. A pounding bass sound underlines the singer's verses while hidden tension grows slowly. Distorted basslines meet syncopated and ritualistic rhythms in a game of release until an epic march fully displays hard kicks and riffing effects with a grandiose nature.
Dry as dust is a pulsating mantra with ghostly vocals and throbbing lines, a goth/EBM pastiche ready to explode in devastating rhythmic patterns and mechanical effects. The atmosphere is quite mysterious and ominous, concurring to a sense of uneasiness conveyed in the loping riffs.
Within employs distorted sounds amidst eerie elements, then it develops a beautiful mantra rich in pathos and graced by medieval innuendos, as well as by Cerezo's strong vocal performance. An inner voyage which during its second half adds electronic disturbances to great effect.
In ruins ends the experience with an evocative climax with electro-industrial vibes and melancholic soundscapes giving us a triumph of emotion and resolute determination. Steady drums and fast takes are the main courses of this captivating episode in which retrò elements and modern production work together perfectly.
Bestial Mouths present what is probably their best work to date. Previous elements coming from the various eras of the project are here reshaped, perfected, perfectly balanced in a stronger version. The songwriting knows how to manage different influences keeping all of their strength and avoiding chaos, and the tracks always sound convincing and, while personal, with a universal appeal. Long live the new (dark) flesh.
Label: Rune & Ruin Records
Rating: 9