Published by Davide Pappalardo on March 21, 2020
Today we interview Lynette Cerezo, head of darkwave/electro-industrial project Bestial Mouths. She talk with us about their music, history, goals, sensibilities and struggles, as well as her collaboration with some interesting artists.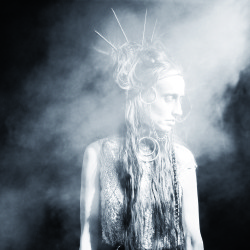 Welcome on Flux and thank you for being with us. Bestial Mouths is not a new name in the field of electronic music with strong post-punk and dark influences. Your first album Hissing Veil dates back to 2011, and during these years your sound changes as well as the line-up of your project, showing us more rhythms and synth sounds. Would you like to tell us about Bestial Mouths history?
Bestial Mouths was created with my then-husband, Chris Myrick, when we lived in LA. Chris has an extensive past as a musician, but I was new to creating, playing and performing; up to that point in my life I had worked in fashion design. The first show we ever did was actually my first time singing into a microphone. I tried out various instruments, but I soon realized my calling was as the front person.
We formed Bestial to express ourselves and as an expression of ourselves, never looking to create or reproduce a certain genre. What came out of the result was part of us and our lives up to that point—our shared love of goth, deathrock, punk and post-punk, EBM, industrial, noise, minimal wave…it all crept in there. We had a roster of talented souls playing instruments through the years, and the band has gone from a three-piece to four and now back again.
After our divorce, we decided Bestial was truly my child, and he went on to do a solo project. After I released the HEARTLESS LP, I enlisted live band members such as Brant Showers of SOLVE & AAIMON to tour with. When I moved to Berlin a few years ago, I found the excellent David Foster of HUREN on drums and FURROR's Raphael Gaudino as synth player. Brant is still an active member and a key part of our newest EP INSHROUDSS and the upcoming LP RESURRECTED IN BLACK, which is coming out later this year.
Your last output Inshroudss is an EP showcasing a somewhat more personal and atmospheric sound, while staying true to the dark and operistic elements which have always characterized it. I know it's more of a solo work, so I want to ask: do you think it's the result of a more defined vision from you and a mature understanding of what you want to express?
I feel INSHROUDSS is Bestial at this moment; it has all lead up to this—all the experiences in my life, the musicians we have played with, the producers we worked with—and been shaped by my constant need to keep going, to attain a new level in my art.
This EP is very personal, as it is the first time a Bestial release has been my solo vision. In the past Chris and I shared in the writing and direction, but the concept, art direction and lyrics of this release were all from my soul. Along with Brant, I also worked with Zola Jesus' Alex Degroot and Balazs Kelpi, who had been helping behind the scenes as my sound guy. Amazing people, each one, and lovely to work with. I knew where I wanted the EP to go, and their influence and skills helped me get there.
This release is the first time I've peeled a layer of my artistic veneer back for a glance at the wound inside; everything I had gone through and been suffering since the divorce, having no idea if I would or could stay on this path—I'd never performed without Chris, would people even accept me as Bestial Mouths without him…? It felt like 10 years of my life had been ripped away from under me. I felt with every step I walked the ground would crumble, blowing away my world to dust.
And I fought and tore my way though it, feeling with every small step forward that I was being kicked back two. Still something kept leading me, slowly, even as I struggled with feeling invisible and unsure and mostly exhausted. I realized then that this is what life truly is—a scar built up slowly over time. It is a collection of wounds to reminisce on in some forgotten corner. It is never what we think it is, or isn't, or will be.
Thus we went from in shrouds to a black resurrection, still alive and twitching like a newborn, but with the chipped and scratched souls of old wisdom.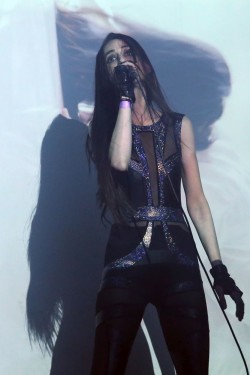 Your voice is maybe the driving force of Bestail Mouths. Rhythms and sounds are built around it, and most of the time it's the soul and motif of the tracks. Many people like to cite Siouxsie Sioux and Diamanda Galas as influences, and I can hear elements from them myself, but of course it's something more than just mixing them. Would you like to tell us about your experience, how you developed your singing?
I appreciate the compliment, thank you. A lot of people don't realize how delicate musicians and especially singers are. It's easy to assume that a powerful or intimidating performance equals beings of steel, but we are porous sponges and we do hurt. So hearing positivity and that someone recognizes or appreciates what we do keeps us breathing.
As for my history, I have no vocal training at all—just a love of female artists who use their voice more as an instrument, and of experimenting and trying new things. I want to hear the emotion and essence of a woman in her work. So I just started singing and trying stuff, always pushing and challenging myself. I have no real answer why or how I do what I do; I simply hear it in my mind and it comes out.
I know you got in contact with the European scene, especially the Berlin one, and toured with one of its best and long-time exponent (of course I'm talking about David Foster aka Hvren) as a drummer. Did you take some new influences from it? It seems a lot of American and Canadian acts are taking an interest in it, when not actively being part of it as for example Spit Mask and Rhys Fulber.
The Berlin scene is obviously a hot spot of some insanely talented folks in all areas of art. My time and experience there has be very valuable, even just the act of being an artist in Europe and having people actually give a damn—something lacking in the US. This opened up a lot in me which also unknowingly effecting my psyche, lifting a lot of mental burdens and allowing me to thrive more. It was also just a beautiful thing to be able to see so many amazing bands; if it's weird, it probably shows up in Berlin at some point.
Even Brant Showers of Aaimon and Sølve fame became part of Bestial Mouths. Personally, I consider him one of the most interesting and sensitive artists in the American scene, with a very personal touch. How did you get in contact with him?
I agree completely, Brant is crazy talented! We met at SXSW ages ago, where we'd both been booked to play, but we'd already been in touch alone as we were both fans of each other's music. When I was looking for live musicians for the HEARTLESS tour, he offered to play live drums. He's got zero ego and is a super down-to-earth guy, so at every point it was a breeze, and I loved being able to get a deeper understanding of his abilities first-hand. I'm very lucky to have him as part of this project; not only is he able to decipher my untrained esoteric way of explaining what I want or am aiming for (I cant read music to save my life), but his skills as a producer are by far my favorite.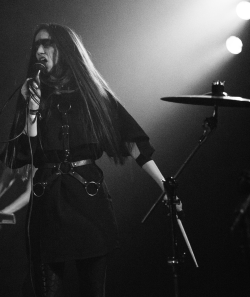 One of your shows should be an experience in itself. What can we expect from Bestial Mouths in a live setting?
My goal for every Bestial show is to bring something intense and moving into this world, to awaken the energy and power within the audience, to resurrect their souls and make them feel Life. Lofty, perhaps, but the beauty of Heaven cannot exist without the horror of Hell.
 What are your future projects? Anything in mind you can tell us?
I have a few things in the works; I will spill those magical beans and musical fruits closer to their birthing.
 Thank you for you time. Anything you would like to add for our readers?
Bring us back to nowhere. Bring us back to somewhere.