Published by Davide Pappalardo on June 8, 2019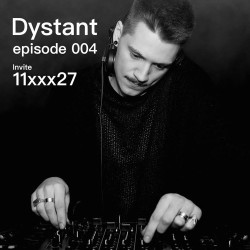 Dystant Recordings presents a new podcast in the EPISODE INVITE series, shortly after Olorr and X-303 contributions. This time Italian DJ Erminio Granata aka 11xxx27 (also know as Code27 and Hyperlacrimae, and a co-founder of the label Infidel Bodies) graces us with 14 tracks moving from droning and abstract atmospheres to hard-hitting techno beats.
He himself explores under his moniker ambient and drone music with industrial leanings, offering pictures-in-sound that evoke memories and emotions in a very suggestive way. In 2017 he self-published The Reality Is Inexorably Destined To Decline, the collaborative effort with Nocturnerror (Carmine Laurenza) 03, and the cassette Essence for Infidel Bodies, and in 2018 his cassette No Hope No Fear which sported a grim and experimental sound.
Our journey starts with Danish producer Schacke and his track Paraphilic love map, a crawling affair with subtle techno/noise elements and obsessive ambiances. Reverbs and distortions underline hoarse female vocals intruding 11xxx27 own track Hard commission in a version remixed by Operant – the way the two tracks collide shows Erminio's mastery behind the desk. Compulsive rhythms and thundering motifs are the main protagonists of this enthralling number.
French artist Mondkopf is here featured with Ruins, a droning techno piece with eerie atmospheres and rigorous rhythmic pattern. Instead of focusing on cold sounds the young artist prefer to evoke emotions and melancholic states of mind. Grinding effects and sharp distortions introduce Blacksun's Ibridation remixed by Tomohiko Sagae. The Japanese producer turns the track into a pounding rhythmic noise affair akin to his recent outputs for the label HANDS – that means mechanical industrial kick drums and grim atmospheres are here displayed.
Go away by Lapse Of Reason (Pablo Bozzi of Imperial Black Unit) showcases EBM bass-lines and galvanizing cyber mantras with a more direct sound and militant vocals. Old-school vibes and physical attacks are enhanced by sorrowful synths and throbbing patterns. JK Flesh's PI04.1 dwells into corrosive techno-industrial territories with strong dub elements. The episode conceives robust percussions and snare drums, giving us a late-night club atmosphere.
The podcast delights us with the Ancient Methods remix of Die Selektion's Der Augenblick, the usual interpretation from the German producer which sees a pulsating version of this darkwave/EBM pastiche enriched by old-school techno synths. Sharplines' Lucifer rising follows suit with dungeon-like techno/EBM attacks underlined by strong rhythmic marches. The track further elaborate the final part of the mix, dedicated to robuster stompers.
Techno-industrial maestro Adam x is featured with The never ending quest, a gloomy number full of caustic atmospheres and stomping bass sounds. Rhythmic-noise i patterns and Adam's vocals conjure a structure with malevolent and creepy soundscapes. Anfs' Rashad delivers a bombastic sound orchestrated by grinding drones and broken rhythms, a shamanic obsession with an industrial soundscape, while Dave Tarrida's False flag is here used as a long rhythmic intro for the techno banger Test pttrn 021 from DJ Sodeyama – this one being an old-school late night track with hypnotizing arpeggios and speedy snare drums.
Raffaele Attanasio is featured with Fields and its blips with a sci-fi quality, a marching techno-industrial number underlined by sharp sounds and shrilling elements. The collaboration between Rumenige and Loktibrada Kylie is presented in a version remixed by Regis, so let's expect a compulsive ride with skilfully placed patterns and robust beats. Our voyage ends with the techno-noise project Ulwhednar and their track Cardinal red, a cutting affair with ritualistic rhythms and obsessive snare-drums evolving into a savage hammering episode with a droning motif.
Another great podcast from the EPISODE INVITE series, a convincing set with some of the best music in the field of drone, experimental and industrial techno, EBM tinged tracks, and straighter club numbers. Let's wait for another one, and let's keep focus on artists like Erminio Granata and young labels like Dystant Recording which totally understand the current techno panorama and its highly exciting hybridization of genres and sounds.
Label: Dystant Recordings
Rating: 8,5