Published by Alessandro Violante on May 2, 2019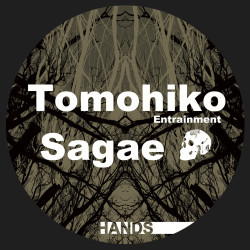 Metallurgic, dirty, annihilating, rough, sharp and powerful are only some of the best adjectives that could be used to describe the new EP written by Tomohiko Sagae and released by HANDS on Record Store Day. The work, entitled Entrainment, is limited to 200 copies. What the listener will find here is nothing but the sound of factories transposed into 4 killer techno-industrial songs.
Entrainment is a perfect example of a meeting of techno, industrial, rhythmic noise and noise. It attacks the defenceless listener, overwhelming him with alienating industrial beats, and inviting him to make a frenzied dance.
Tomohiko Sagae comes back with an entrainment, after having released several works for labels such as Strange Therapy (Deba Bōchō), HANDS (the magnificent album Sensory Deprivation released two years ago), plus several remixes; to name the most recent one, that made for MXM's debut EP Absurd, released on Liber Null.
The sound of Tomohiko Sagae strikes the listener with vehemence without leaving to him any time to prepare for this industrial storm. Black mist sounds incisive thanks to heavy rough beats conceived as an updated version of the earliest expressions of industrial music. The track is enriched by a  highly distorted sampled electric guitar, giving a rough identity to the song. Thanks to a faster tempo, to darker sounds and to incessant heavy beats, Tense atmosphere succeeds in transmitting to the listener a feeling of alienation and sensory deprivation. It's a symphony of sounds coming from industrial machines.
Side effects goes on with a slower yet effective assault, thanks to the well known metallurgic sounds, to rough and heavy beats and to noise, which is the main element of the release. Defensive pessimism is even slower, but this doesn't affect the power of the song, that devastates the listener. Entrainment portrays an ideal point of contact of different genres, yet linked with each other. Tomohiko Sagae confirms himself once again as a very talented and inspired musician with a lot of potential.
Rating: 7, 5
Label: HANDS