Published by Davide Pappalardo on May 13, 2019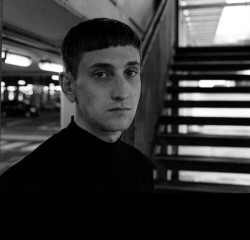 Austrian artist Olorr is a young newcomer in the world of modern techno. He likes to be inspired by his many travels around the world and the different experiences they lead to. A vision and concept linked to constant evolution and development, searching for something new every time.
Italian label Dystant Recordings welcomes him to its series of podcasts called EPISODE INVITE with the second installment, a tour de force into a heart made of techno with different aspects and qualities, from ambient to club rides and experimental passages.
Names like Silent Servant, Luis Farfan, Ulwhednar, Tom Hades, Ron Albrecht, VTSS, Mike Davis and many more concur to a mutant set with a highly entertaining development. Controlled ambiances, throbbing bass-lines, engaging rhythms, droning movements, can be found here, in a changing soundscape full of surprises.
Rebirth And Fertility showcases an ambient track in My lost mistake, a delicate affair with sparse ambiances and melancholic atmospheres aptly used as an intro for our voyage. Majestic synth-lines and distant samples complete this highly emotional moment, preparing us for Silent Servant and Luis Farfan's No te debia amar, a droning affair with obsessive lines and crooning vocals in Spanish, underlined by a spiraling movement. The track is built upon a suspended atmosphere, which encounters during its second half industrial sounds.
Peter Van Hoesen changes scene with Unicorn and its straight techno kick drums and snares, a club track with acid moments and old-school elements; it soon converges with Skee Mask's Kappelberg chant and its breakbeat structure with house movements and ambient takes, a sort of urban-tribal pastiche with hypnotizing loops. Desroi returns to throbbing techno territories with Xanax and its electric atmospheres, a pulsating number groovy snares and obsessive rhythms.
Ulwhednar's Through gates of ice welcomes us to a world made of ice-cold techno with drone and ambient aspects, before it injects the track with robust rhythmic patterns and industrial abrasions. The second half sees soothing ambiances without losing momentum, enriching the number thanks to an eerie atmosphere. Cassegrain's Addax explores the gray dimension of techno/dub, offering severe movements and dry snare drums. A hidden tension is released with galloping rhythms and corrosive bass-lines.
Dimi Angelis' Spinoff offers thundering techno loops in a mesmerizing chant reached by speedy snares. The track slowly develops a stomping journey with distorted soundscapes. Kaiser squeezes our ears with the shrilling affair Large rage, a club-friendly ride with the usual snare drums and throbbing patterns. A nervous movement underlines the track during its duration. Tom Hades fuses techno and house elements in Chara, showcasing deep techno tracts and microhouse passages, without forgetting strong techno rhythms and futuristic atmospheres.
Pøli and Lorenzo Raganzini collaborate in Raving in paris, here presented in a version remixed by Insolate. Reverberated lines and stomping rhythms are underlined by blipping sounds and chaotic snares, conjuring a nightly atmosphere with groovy movements. Ron Albrecht's Several faces is a no-nonsense techno episode with minimal structures and lysergic atmospheres. Sudden rhythmic marches and acid elements complete the explosive track introducing a menacing climax.
VTTS and Mike Davis end the podcast with two tracks, Self will and Anti mimesis 1. The first one is a techno/EBM hybrid with acid synths and obsessive snare drums, a compulsive number with steel-like kicks and distorted anti-melodies – probably the harsher moment on the podcast. The second one waves goodbye with a return to straight techno, a fast affair with looping rhythms and misty atmospheres with sudden sparks and hypnotizing percussions.
A versatile podcast showcasing a rich background from the Austrian artist, characterized by a modern vision of techno encompassing different aspects of the genre and producers coming from different labels. Eschewing easy routes and self-indulging decisions, Olorr presents a list of tracks that could be used in any serious techno night, with a start, a development, a middle section, a final part. The tracklist is no a product of chance, as the various episodes follow each other seamlessly. Recommended.
Label: Dystant Recordings
Rating: 7,5