Published by Alessandro Violante on March 27, 2023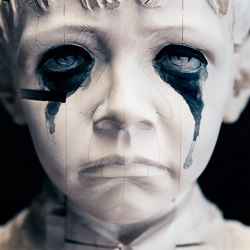 Certain albums sound like the perfect soundtrack for that inner mal de vivre that sometimes knocks at our door and that sometimes we like to experience. These are soundtracks for that dark side hidden in the deepest areas of ourselves and that sometimes we like to appreciate.
Already with the first volume of Suicide Disco, released in 2019 before the pandemic, Years Of Denial, thanks to the dark and cold patterns drawn by Jerome and to the cold and alienating voice of Barkosina, had perfectly portrayed those dark moods and feelings especially experienced by those people living in large metropolitan areas. Alienation, loneliness, despair, melancholy, sorrow. These are some of those feelings evoked by their music.
Suicide Disco was considered one of their best releases and one of the most representative releases released by Veyl. That release hugely contributed in widening their fanbase. Previously, they had released music with labels such as Khemia and, especially, Death & Leisure, the label founded by Broken English Club.
The label founded by Oliver Ho is one of the most interesting and experimental labels in the techno field, which also contributed in creating a connection between himself, Years Of Denial and Maenad Veyl.
After having released the first volume of Suicide Disco, Years Of Denial have released other music and collaborations. In 2020, they have released the Human Tragedy LP with the Lebanese label Modular Mind, run by Kujo. The same year they released the beautiful Marry Is Dead! in collaboration with Maenad Veyl, included in his Reassessment LP. The following year, they released the song Lover's Crime on the compilation Devotion To Pleasure released by Rubber Mind. Barkosina released another work on Modular Mind entitled Fasting Culture in 2021, and in 2022, always with Veyl, Jerome released an LP as Supreme Low Meets Sensational.
Although all their releases released after Suicide Disco were highly appreciated, the fans of that specific album patiently waited for a new album which followed that direction, and finally Suicide Disco Vol. 2 will be released on 31th March. This LP includes 12 songs.
If compared to the first volume of Suicide Disco, although we can clearly perceive the similarity of the style, we surely can also perceive the evolution of the style of the project, which is deeper and more multifaceted than in the past. Also the current sound has surely influenced these new songs. The result is an album evoking some emotional states in the listeners even better than in the past.
This evolution was already perceivable in the aforementioned song Lover's Crime, which is one of the best examples of their maturation. Here, Barkosina uses a wider vocal spectrum and tells a proper story, while Jerome builds a multifaceted song.
Talking about the new sonic influences perceivable in Suicide Disco Vol. 2, we can find EBM sounds especially in songs such as Wrong, City Lights and Dancing With Demons (which is the single released some days ago). We can also hear post-punk sounds in Death Of A Lover. These songs demonstrate how the project succeeded in evolving its sound keeping it fresh without losing its trademarks.
It's not easy to highlight some songs above others, as in Suicide Disco Vol. 2 there aren't fillers or pauses. Each song is potentially a hit single, and all of them are top notch songs. Each listener can choose them as they wish. If I should give my opinion, I would choose La Pendue. In this song, partially influenced by EBM, the sounds and the lyrics express at its best the mal de vivre the human race has experienced especially in the last years, although a lot of people refuse to admit it. In this song there's that feeling of loneliness that has been amplified by the pandemic and by social distancing, but it isn't strictly connected to the pandemic.
Also Regarding The Pain Of Others is a "little" masterpiece in which its cold sounds make us travel towards physical and mental desolated places.
The closing song, Social Anxiety, features the vocals of Broken English Club, paying an important tribute to this master. In fact, the approach of Years Of Denial shares more than something with that of Oliver Ho. Both his sound and that of Barkosina and Jerome is able to bring us towards the darkest swamps.
Suicide Disco Vol. 2 sounds like a new manifest for those tribes crossing the streets of metropolitan cities such as Berlin expressing an alternative way of living. It should be listened more than once, possibly alone in the right setting. It will give you the right satisfactions.
Rating: 10
Label: Veyl