Published by Melissa Lynne Strain on July 17, 2019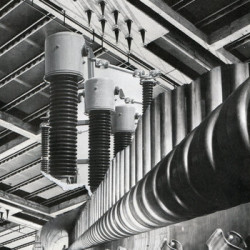 Echoes from the factory​ is the first release from Impartial Waves, the Berlin-based label founded by Spanish DJ and producer ​Maria Silvia​, who goes by the name of ​N01R​. 
The idea was born from the desire to create a non-elitist label after she became dissatisfied and disillusioned with the state of the music industry, where labels favour promoting big names over supporting smaller artists and real talent. 
Impartial Waves doesn't want to belong to the capitalist system of techno music, and wants to remind listeners that underground music should remain pure, away from the drive of money, egotism, power and greed.
The release contains 12 different tracks, and gives a voice to smaller artists, as well as bigger names in the industrial techno world. Although the tracks range from different styles, they are all tied together with roots in industrial and noise movements. 
The release contains experimental pieces like ​EME​ by ​Halv Drom​, while more dancefloor oriented tracks like ​The fallen​ by ​Aneed ​still have strong noise and industrial influences.
Impartial Waves wants to use music to teach young people they don't need to conform to society and should use the tools of noise and industrial to scream out against the systematic oppressions, and show that they don't have to agree with everything in these times of social media and following the masses.
Some of the standouts from the release include the dark, sexy and ritualistic EBM-tinged track ​Rebellion​ by ​Orbital K,​ the newly conceived duo project of ​N01R​ and ​Unconscious​. Generation of vipers​ by​ Rosa Nebel ​brings together the rhythmic elements of body music with industrial undertones, building up tension for a brutally hypnotic ride on the dancefloor. 
Assassani ​amps up the power with aggressive force and pounding kickdrums with ​Obertvre & revelation ov thee seven dvnkel seals​, while ​Lutte des classes​ by ​Crystal Geometry​ is another warehouse ready banger, putting the French producer's modular sounds on prime focus. On the other side of the spectrum, ​Orphan Swords​ provide a deep and dark ambient listening in the form of ​The next generation of leaders.
Echoes from the factory​ is available on cassette and digital from Bandcamp and we are excited to see what comes next from this young label.
Label: Impartial Waves
Rating: 8, 5