Published by Davide Pappalardo on November 1, 2019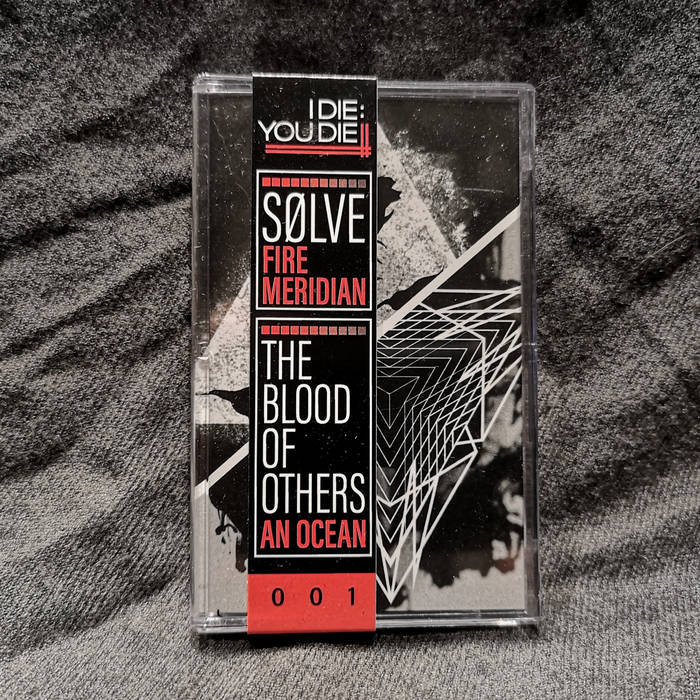 Most of the time split releases are peculiar moments in the artistic life of a project, or better said of every project involved in them. On paper they are an easy thing – some tracks from an artist, some from another, and there you have it. But, where is the difference from a compilation? Here comes the tricky aspect of it. Real split albums work when they offer a coherent experience in which the participants conspire together, while keeping their own identity and core elements. Two sides of the same coin, a narrative in music with two visions in the same place.
Luckily the two projects here involved are no beginners or amateurs. SØLVE is the solo effort of Brant Showers (one half of Aaimon) characterized by the fusion of soulful dark ambient, noise, electro-industrial, and orchestral undertones, while The Blood Of Others is Michael Kurt of [product], here involved in cinematic and experimental soundscapes informed by some of the aforementioned genres and hoarse vocals. Fire Meridian/An Ocean is the name of the limited cassette here reviewed, a special split-album released on physical by the important music site I Die: You Die.
Our journey starts with SØLVE and the track Wolves will, a pounding march with martial beats and delicate melodies graced by Showers' evocative vocal delivery. The energy slowly grows until it reaches a beautifully crafted electro-industrial refrain. The mix of almost mechanical rhythms and emotional outburst, all while keeping a robotic atmosphere, is one of the grandiose elements in SØLVE music. The following The wheel has turned starts dwelling into grim ambiances and droning dark ambient movements, but it soon delivers a majestic and gentle guitar intertwined with synth sounds. The second half sees chanting vocals and hard kick-drums.
Liminal wouldn't be out of a place in a horror flick, with its intro full of cinematic tension and creepy atmospheres adorned by piano notes and a steady percussion. It adds during its course rhythmic attacks and the usual hypnotizing vocals alternating evocative pauses and blasting refrains. Blackbirds ends his side with a beautiful "electro-goth" moment in which melancholic guitars and sci-fi effects become one, while stomping drum machines underline their movements. Showers gives us another sincere performance, chanting with conviction.
The Blood Of Others is introduced by the orchestral beauty of Part I, offering mournful arches and enchanting walls of distorted effects. A cinematic experience playing with our deep emotions and consuming itself in sad piano notes and violins upon which clean vocals describe a dooming situation. Part II follows suit with broken rhythms and further orchestrations, keeping the previous theme while expanding on it with sharp screams and dramatic atmospheres. We understand here that more than single tracks, we have different part of a common motif.
Part III uses distorted and down-tuned guitar sounds achieving an alarming syncopated mantra enriched by elegant notes and combative vocals full of spite. The fusion of suave elements and a punk attitude does wonders, recalling some of Skinny Puppy elements, but in a very personal fashion. Part Iv ends our voyage with brooding atmospheres and looping distortions, then it adds female vocals and the usual orchestral melodies, here underlined by pulsating arpeggios and riffing lines. Aggressive vocals complete the scenario giving us a dense soundscape full of desperation, while narrative pauses prepare synthwave-inspired moments.
Fire Meridian/An Ocean shows us that there is life in current electro(nic) industrial besides techno-industrial and power electronics. Names like SØLVE and The Blood Of Others revitalize a genre which has become a cliche by learning from the past without aping it and following their own muse. And, most important, they give a purpose and sense to their music going well beyond simple style. You can find actual songwriting here, a narrative with emotional takes and a human soul behind the machines. Both of them deserves our praise, as well as I Die: You Die for the wonderful idea of combining the two digital EPs into one album. Buy it until you can.
Label: I Die: You Die
Rating: 9