Published by Davide Pappalardo on April 25, 2016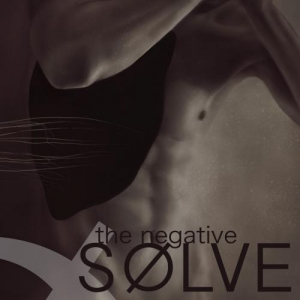 Many lovers of dark and experimental electronic music should recognize the name Brant Showers for his activities as the second soul of the Aaimon duo, where he works with his partner Nancy Showers giving us a sound somewhere between ambient, witch house and electro-industrial. But by now he will also be known for his solo project Sølve, which debuts with the album The negative for the label Audiotrauma after years of preparation and announcements by the musician.
We can now analyze this record, which takes the main band modus operandi and converts it into a more personal approach, with ambient layers and ritual elements reminiscent of Coil's music, dark techno moments, more caustic and industrial traits, without forgetting piano keys and synth melodies so dear to him, and some vaguely post-witch house elements, the same that have made the fortune of Aaimon. Therefore not something totally alien and different, but at the same time a welcome new output born from the creative talent of the American musician, able to sculpt works where sound design and a taste for evocation go hand in hand.
The album is like a journey where we find various sound stations (in fact the title track is scattered through the album, divided in four suites) that are parts of a total experience, despite all their peculiar characteristics that make them compelling and with their own identity. Let's start with The negative (perspective 1) where atmospheric sounds, crawling trip hop suggestions and dreamy melodies are linked in a constant evolution that embraces noise motifs and ritual choruses, while, instead, What remains shows us dark ambient atmospheres and noise structures, soon violated by techno beats, until it explodes in a strong, mechanical ride upon which Showers shouts his mantra. For worse uses a 4 / 4 drum machine combined with evocative string lines and sleep-walking atmospheres, elements used while the singer whispers his charming choruses.
The negative (perspective 2) follows the established path with a sampled storm, soon followed by dark and disturbing crescendos interrupted by piano keys and icy spectral melodies; the last part, instead, sees grandiose industrial explosions, inserted into the previous structure. Loses offers us a dark suite, which soon gives way to rarefied sounds, sculpted by a strict rhythm which grows in intensity with orchestral majesty where melancholic synths are well placed. But then again we dive into ambient darkness, recreating the nocturnal world that dominates the entire album.
Then we have The negative (perspective 3) with its sound vortexes and metallic, obsessive, beats accompanied by thrilling choruses, then followed by rhythmic parts with an experimental taste and disturbingly filtered dialogues. Amor vacui starts with a subdued earthquake, but soon it opens up to old-school dark ambient solutions. Then it evolves into a more melodic, we dare to say "pop", direction, without forgetting experimental rhythms and harder sections.
The work ends with Ode and the fourth and last part of The negative: the first one is another soundscape composed by a creeping minimalism and evocative arches, upon which intrusions and interferences from early industrial music are inserted, an episode that only last a few seconds, while the second one starts in all its grandeur with syncopated rhythms and samples with a taste for medieval atmospheres, reminiscent of the sound of Rhys Fulber's Will, a song at the halfway between electro and darkwave. Soundscapes and creeping suggestions join forces once again, without forgetting repeated obsessive choruses from Showers, real mantra rituals and enthralling crescendos.
A record that brings us towards transcendental sonic grounds, but that at the same time keeps a taste for crawling beats, as well as for neoclassical moments where samples of violins and piano keys intersect with epic synths, already well established elements in the songwriting of Aaimon. But the real surprises are offered by the more experimental tracks, which show us another side of Showers, capable of giving a real identity to the project, detaching it from the main band's style. A very good beginning from which will start a path made of other interesting works, we can only hope, capable of transporting us in this world of the twilight of the soul. Definitely recommended both to those who already know Aaimon and to the new listeners.
Label: Audiotrauma
Rating: 8