Published by Alessandro Violante on January 30, 2022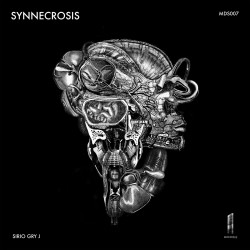 21st October 2018. The end of the Maschinenfest festival left a relevant vacuum in the souls of the lovers of so called rhythmic noise and industrial music. Nevertheless, already during those years, and above all in the following years, several new artists and labels included those styles in their new hybrid music, also inspired by the pioneering work of artists such as Orphx and Hypnoskull. One of these labels is Monolith Records, run by Sirio Gry J, which has released several releases by known artists such as Fire At Work, Supersimmetria and Artik among others, which we widely covered on our pages.
It's not by chance Hypnoskull himself has actively collaborated on SYNNECROSIS, the new release by Sirio Gry J we talk about in this review, released on 12th November 2021. During the same year, the Italian musician, already active also with Liber Null Berlin, has released the tape release Shreds From The Netherworld with the German label Furanum Records, run by Dominik Müller. The Belgian pioneer, with this collaboration, has officially recognised the talent of Sirio Gry J of having developed a radical music concept, mixing techno, noise, industrial and rhythmic noise, as hasn't been done in years.
Undoubtedly, SYNNECROSIS could have been one of the best Ant-Zen old school releases, as the twelve songs here contained, each having its style, its soul and its structure, sound like the quintessence of that sound, obviously read through the lens of the musician and of his background. Each song explores a different direction using different rhythms, sounds and patterns, but all the songs share a sonic depthness and a rawness which are quite uncommon today, also thanks to the mastering of Ken Karter. Industrial is the most appropriate word to describe this complex and multifaceted release.
These qualities are clear since the first song, Technocracy, offering a very dark cinematic layer and a disturbing and sharp noise matter, an uncompromising beat, an output refusing any embellishment.
Cyberterrorism offers a strong, sharp, engaging, hammering, distorted and majestic beat, with alien sounds on the background. Molecular Stasis offers fragmented structures, IDM patterns, enthralling and industrial beats, with a pause making it stronger. Model Disruption, made together with Scam., offers an heavy techno-like beat that, heavy as a rock, also thanks to its heavy noise injections, overwhelm the listener.
Kimera and Sprawl Collapse are two jewels clearly inspired by rhythmic noise. In particular, the last one has something of the approach of the pioneers Esplendor Geométrico. Both of them have strong distorted and raw beats.
Sozialtechnik, featuring the aforementioned Hypnoskull, is a rhythmic noise mantra with a slow and heavy beat, and the words of Patrick Stevens. Detrimental Bond offers acid sounds and a slow, distorted and uncompromising beat. Biomechanics Galore has a slow beat with electronica sounds and a particularly engaging development. Biomass Contractions has a slow rhythm and alien sounds, while the last song, Sozialtechnik (Martial Reprise), closes the release with a powerful, fast and hammering variation of the original version, a strong rhythmic noise output.
In the words of the artist, SYNNECROSIS is a critique towards the results of the processes typical of information society in which we live. Due to the strong technological developments having given to technology and to technical media a fundamental role in our lives, our planet, once having been the result of chemical reactions and of complex natural processes, has progressively been reshaped, recombined and damaged by technology and by its applications. The environment has been sacrificed in the name of technological development, and things are getting worse due to the relevant role AI is playing. Although individuals can take advantage of these technologies, this will bring us towards an ever stronger technocracy, which will erase casualties and errors, and which will transform us in machines unable to think, bringing the world towards extinction.
Label: Monolith Records
Rating: 9