Published by Alessandro Violante on May 11, 2021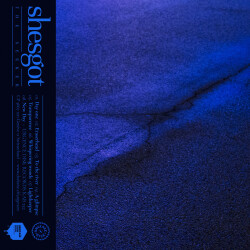 Shesgot is the most recent project of the chameleonic Italian musician Michele Caserta, here together with the singer Federico Palmieri and with Matteo Palmieri playing guitars and the bass guitar. Through the years, Michele Caserta has often proved to be a kaleidoscopic and versatile musician, from Drama Emperor to Twin Towers. With Drama Emperor, in 2016 he released the appreciated album All Of These Days, a very good mix of post-punk and electronic music, while, with Twin Towers (together with Vanni Fabbri), last year he released Chaos & Banana, a mixture of a wide range of styles such as minimal electronics and old school tinged-EBM with an ironic taste.
The Seeker, the name of the object of this review, has been released on 31th March by the Swiss label Urgence Disk Records, showing once again the richness of the polychromy of the music of Michele Caserta. In this album, the listener will find shoegaze sounds enriched by a certain pop sound, resulting in a pleasant listening experience.
The Seeker features eight songs for approximately thirty minutes of music, more than sufficient to show the trademarks of Shesgot without risking to bother the listener with useless verbose elements. In The Seeker, Michele Caserta plays bass guitar and all the drums sounds. This last one is a fundamental element of the sound of the band, which enriches the sonic palette of this release. Also Federico Palmieri proves to be a good and versatile singer, especially when he sings in spoken word, as in the opener Day one.
The mastering has been done by Yvan Battaglia, an Italian sound engineer particularly known for his project Carnera (together with Giovanni "Leo" Leonardi), which is one of the most appreciated Italian projects of his genre. Yvan Battaglia is also known for his project Les Champs Magnétiques, this one with Monica Gasparotto.
The Seeker has all the elements which will guarantee a pleasant experience to shoegaze aficionados.
Label: Urgence Disk Records  
Rating: 7