Published by Davide Pappalardo on October 11, 2016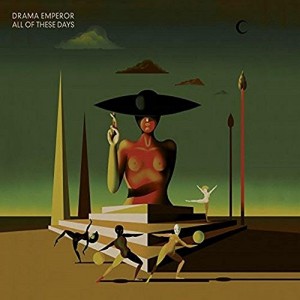 Drama Emperor is the post punk / electronic music project of the Italian musicians Cristiano Ballarini, Michele Caserta and Simone Levantesi, hailing from Macerata. They've already published an album called Paternoster in betrieb in 2013, licensed by Seahorse Recordings, a work characterized by a mixture of darkwave, post punk, synth pop, industrial and the usage of Italian, German, and English in its lyrics; now they return with the sophomore full length All of these days published by Alienated Records, recorded at Bunker Studio by Caserta and mixed by Sid Lamar of Schwefelgelb and Keluar fame at Hype Cicle Berlin, a work which follow the same line of the previous effort, but with an even more coherent and stronger songwriting and direction.
Post-punk guitars, dark and brooding electronics, industrial attacks, exotic sounds, and a sometimes poetic and narrative, sometimes angry and ferocious, voice are used in a sound full of energy, but at the same time melancholic and dark, a melting pot of sounds, languages and emotions, which menages in resulting not in a mess, giving us, instead, a compelling work with its own narrative and many different faces coming from the same source.
Our journey starts with The Title track and its grim guitar loop supported by a steady rhythm and bass driven sounds; the voice of the singer is charming, but somewhat disgusted in an ironic, almost sarcastic, fashion, and buzzing synths underline the structures of the song. Then a melancholic melody has its way, developing a loop which hypnotizes the listener: a strong starting point which is a shape of things to come.
Sharp song turns in a more aggressive and industrial-oriented direction, using distorted and shrilling guitar loops ala Nine Inch Nails and grim electronics, but even ethereal and evocative choruses are here used in a very effective way, giving pause to the dominant dark and angry tone of the song; a change in emotions and sounds which recalls human thoughts and considerations, a method which enriches the already strong narrative of the track.
Gerusalem reworks ingeniously 80's dark tropes with a vivid, almost dance, modular sound and drill-like guitars, giving strong support to the evocative singing; industrial metal moments surprise us with their oppressive attacks, while almost sensual, exotic electronics, develop a charming atmosphere. The song ends with an exhilarating chorus, an emotional explosion completed by dissonant arpeggios and the same electronics of the beginning. Oh Boy is an experimental interlude played on piano, droning ambient loops and a vocal sample, a short episode which ends in statics, while The blind man starts with a mechanical movement, then developing a melody driven and melancholic sound where a constant loop and eerie elements are the main elements.
Step new has an almost IDM feel with its syncopated rhythms, but guitars are not forfeited, instead they are integrated with their steady loops in the ethereal keys and futuristic elements, while post punk sounds have a crescendo in the second part of the song, giving us a climax underlined by the last electronics, and Wir sind is its right companion, a minimal synth episode with lyrics in German, dominated by keys and robotic rhythms. It grows by adding different elements in a crescendo culminating in a faster sound in an EBM-ish fashion; but the change in direction is always here, so we'll find buzzing guitars and melancholic arpeggios too, in a finale which guides us till the end. The final song is an electro pastiche with filtrated vocals and sharp analog synth sounds, a minimal episode which recalls the more dance oriented numbers of Absolute Body Control and D.A.F, and at the same time the more acid side of 90's Britain.
A work which menages to avoid all the clichés generally associated with today's post punk revival, mixing different genres, epochs, moods, while keeping at the same time a strong identity and an unmistakable link with a certain movement, characterized by a competent and diverse songwriting and a professional production. Drama Emperor understand that punk means freedom and not to follow rules or a template, and the experience of a lifetime, with its good and bad days, gives fuel to the lyrics and to the live energy; if you want to listen to a modern experimental post-punk record not trying to copycat the past, instead looking at the present and future, you have found it.
Label: Alienated Records
Rating: 9