Published by Davide Pappalardo on December 26, 2019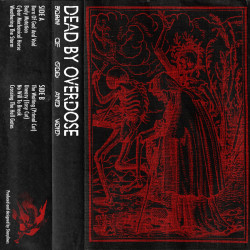 Italian producer Nicola Cimmino aka Nathaniel and Sharplines has been stepping up his game for quite some time. With the release of Heading For Hell for Ancient Methods' label Persephonic Sirens he showed a very mature style made of unique songwriting skills and a professional level in sound-design, and after that he further continued developing his craft both in studio and live setting.
Dead By Overdose is the next chapter in his artistic vision: a cassette label dedicated to ambient, industrial, noise, EBM music. The first output was Nathaniel's experimental/noise digital album with the same name of the label, and now is time for Sharplines to grace the history in the making of what has all the premises for a top-reality in "the scene".
Born of God And Void is the name of the 8-track album we are reviewing, a collection of engaging tracks exploring the multi-faceted world of Cimmino's music. Old-school techno, electro-industrial, EBM, noise become templates upon which he works redefining conventions and exceptions; the results are familiar yet new, exploring the possibilities of a post-genre world without losing focus, coherence, and vision.
The tile track is a perfect opener: reverberated ambiances welcome us before the start of a throbbing motif underlined by steel-like drums and rhythmic effects. The spirit of early 90's techno takes a dark turn thanks to sharp elements, while hypnotizing passages guide us among electro-highways. Body mutation showcases noisier elements while retaining the same taste for rhythmic patterns, developing a modern techno-industrial piece completed by obsessive snares and enthralling bass-lines. Compulsive attacks prepare us for riffing refrains and almost ritualistic mantras for a cyberage.
Cyber mechanical horse plays with rhythmic noise elements and exhilarating crescendos, in a restrained yet rich environment in which mechanical obsessions and sudden pauses have their say. Glimpses of current sounds are scattered through the track in a very personal rendition of techno music with industrial undertones. The waiting (primal cut) takes melodies and scenarios recalling early 2000's EBM, but it upgrades them with medieval atmospheres in a dungeon-like setting paying homage to his mentor Ancient Methods.
No will to break sees the participation of his other alias Nathaniel in a straighter but not less interesting track with punishing kick drums and groovy techno motifs. Probably the "club moment" of the cassette, but with all the due attention and craftsmanship you would expect from Cimmino. Added lines develop a hypnotizing episode with a steady crescendo and enthralling climaxes. Crossing the hell gates is the outro, an evocative piece with majestic orchestrations full of pathos and rhythmic patterns made to be danced to. Punishing beats and droning elements conquer our attention while various effects work underground ready to prepare sci-fi evocations.
Born of God And Void is a perfect example of where we are at with the best of the current evolution of "industrial music born out of techno". It shows a producer perfectly at ease in fusing the best of different worlds without ever sounding contrived or forced. The flow of the tracks is immaculate, even if they have all their characters, the attention to details and soundscapes never forfeited. Sharplines' music is at the same time deeply rooted in tradition and anew, a freedom born of the knowledge of the past put to use in the present for present's music. As they say, all hail the new flesh.
Label: Dead By Overdose
Rating: 8,5