Published by Davide Pappalardo on July 11, 2019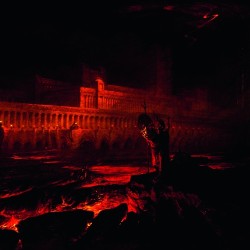 Sharplines is the most recent project from Nicola Cimmino, an Italian producer already known as Nathaniel and dictated to unconventional techno/EBM music with great sound-design and textures. Under this guise he continues his exploration of the fusion of techno with acid elements, industrial, EBM, electro.
After the digital releases Last Rain (RND. Records, 2017) and Snake Heads (Raven Sigh, 2017) and the splits with his other moniker Nathaniel Out Of Control (Persephonic Sirens, 2017) and Bitter Teardrops (RND. Records, 2018) he returns for Ancient Methods' label with the new 12" Heading For Hell.
Expect robust and majestic techno industrial music with EBM basslines and grinding sounds informed by an ominous atmosphere with hellish soundscapes and droning rhythms. Frantic rides and engaging patterns will guide us among a sonic dungeon with throbbing synths and harsh kick drums.
Major arcana is a compelling mantra made of eerie arpeggios soon conquered by destructive rhythms and chains-like beats, a beast of a track with pounding movements and distorted bass sounds. Sampled vocals concur to a growing tension enhanced by dissonant effects and unforgiving loops. Heading for hell creates a seductive groove underlined by lysergic sounds and harshness straight from the hell factory. Old-school crescendos give us a narrative structure climaxing in unrelenting rhythmic assault with cinematic energy.
Lucifer rising follows an EBM bassline with throbbing structures and martial rhythmic patterns, recalling the style of Ancient Methods in an even grimmer setting. New dungeon-like effects and eerie sounds complete an obsessive mantra while a hypnotizing march sees pauses with seductive vocals and enthralling crescendos. Sacred bullet ends our voyage in the company of Dante and Virgil, a soulful surprise with syncopated rhythms and looping strings searching for an almost ethnic sounds once again taking notes from the German producer. But it doesn't mean that the artist has no identity, sampled dialogues in Italian recall a very personal atmosphere linked to old movies and documentaries with noire innuendos.
Sharplines is a name deserving the attention of any lover of skillfully crafted techno industrial music informed by a great attention toward details, but at the same time characterized by robust rhythms and engaging synth sounds with a proper atmosphere. For sure his influences are not hard to detect, but using them as a starting point he builds his own sonic world and aesthetics. Highly recommend!
Label: Persephonic Sirens
Rating: 8