Published by Alessandro Violante on May 7, 2019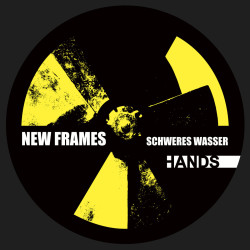 Almost two years after the release by HANDS of Geistform's Fisión EP, on The Record Store Day held on 13th April 2019, the German label has released two EPs on vinyl format, limited to 200 copies, one by New Frames, and one by Tomohiko Sagae. This is not the first time HANDS releases a limited edition vinyl, but maybe the return to this format is a sign of the times underground music distribution is living nowadays.
And now, almost two years after the release by HANDS of their debut album Resistance through rituals, New Frames, a duo run by David Frisch and Mathis Mootz better known as The Panacea, come back with an EP entitled Schweres Wasser, a dancefloor-ready 4 track EP having and undeniable danceable appeal.
If compared to their previous release, New Frames show more impactful songs here, with a stronger immediacy also thanks to their shorter length. Probably vinyl is the best format for this kind of release.
The main ingredient of their recipe is techno with noise, rhythmic noise and EBM elements. The opener Mumiae is a perfect example of this mixture. The last ones is a faster episode, sounding as if it was a fast and claustrophobic hardtechno song. Grond has a beat close to a typical rhythmic noise one, enriched by a sinister mood. The distortion here is a key element.
The EP ends with a remix of Farewell legacy signed by Ontal, one of the most relevant projects in the current techno-industrial scenario, who adds heavier and noisier sounds to the original song. Beats are shattering, heavy and metallurgic, hitting the listener like a river in flood.
That of the Serbian duo is a convincing ending for a short yet intense work, perfect for a frenzied dance in an abandoned factory. The listener shouldn't expect any particular artistic embellishment: the sound of New Frames goes straight to the point and sounds quite minimalistic. It doesn't take prisoners.
Label: HANDS
Rating: 7