Published by Davide Pappalardo on April 11, 2020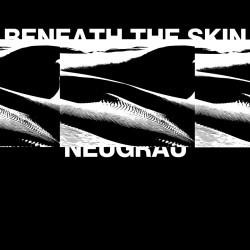 NeuGrau is a new project from Ingmar Pauli and Saša Rajković, both members of the, darkwave/EBM band Sumerian Fleet. Here they mix neo-oldschool EBM with a taste for minimal synth sounds and punk moments heavily relying on droning bass guitars. Once again, we find ourselves in contaminated territories, with a style where various elements from the past are mixed with a modern point of view informed by the current electro/techno EBM scene .
Their debut EP Beneath The Skin is not surprisingly published by Berlin based label She Lost Kontrol, which has recently presented like-minded releases such as Crna Ruža from La Chocolat Noir and Limited Edition Boxset from How Green Is My Toupee. Here we find 4 new tracks and a remix, showcasing Rajković's crooning vocals and Pauli's mixture of minimal synth, solid basslines. obsessive rhythms.
Get down and howl starts the work with a throbbing line underlined by steel-like drum machines and looping bass guitar. A sleazy punk performance is served by the singer, while eerie synths and electronic moments have their say amidst the ride. A mixing of sound as well of emotions, urgency meets moments evoking moments and robotic passages.
Beneath the skin is a rhythmic number with hypnotizing kicks, droning basslines and crooning vocals conjuring a sort of confession placed among mechanical movements and acid atmospheres. The skeleton of EBM is the structure upon which cymbals and rhythmic elements are placed with a minimal-yet-fulfilling touch. The track as a "dancefloor dub" remix where things get faster and frantic, presenting a stomping version with steady bass sounds and, of course, techno vibes while keeping the essence of the original.
I'm bored is a "funny" moments with soulful bass guitars and minimal synth melodies , a track mixing early 80's synth-pop and the experimental nature of the project. Robotic vocals complete an alien atmosphere with an obsessive peace, recalling the very first efforts from MUTE. Probably the most out-of-there moment on the EP, a nice pastiche working as a suite between the two parts of the work.
Move forward ends our journey with a strong dark/post-punk vibe, thanks to melodic arpeggios and lavish vocals heavily inspired by 80's music. Everything here is like straight from that time, even the well placed refrains, while electronics take a backseat, a steady drum, bass sounds and guitars are under the spotlights. A nice surprise giving us a different note and showcasing NeuGrau's versatility and peculiar aspects.
All in all, Beneath the skin confirms its status as a release perfectly in line with the "new wave of experimental electronic music" with punk and minimal elements. Actually, we find here different ethos, from EBM to post-punk, from minimal-synth to darkwave, reinterpreted with a playful-but-professional take. Different emotions and elements presented in a cohesive way thanks to the skills of the musicians involved. Once again SLK delivers a brave example of stylistic freedom obtained by knowing the history of "our music".
Label: She Lost Kontrol
Rating: 7,5