Published by Davide Pappalardo on April 16, 2020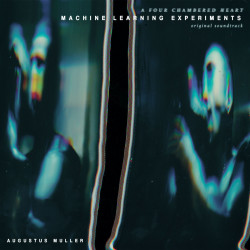 Augustus Muller is one half of the well know American minimal synth/darkwave duo Boy Harsher, a project characterized by seedy and noire atmospheres, as well as robust rhythms. After years with the main outfit he decided trying working solo too, specifically on soundtracks for the UK based collective Four Chambers' art-porn movies Orgone Theory and Hydra. The aim of the collective is to focuses on DIY practices and non traditional bodies and narratives, dismissing the need for a separate definition for genres via an ambiguous approach.
Now both of the 5-track scores have been collected in a 10-track album called Machine Learning Experiments (Original Soundtrack), an instrumental venture into soundsapes, strong synth-lines and eerie, sometime creepy ambiances. We are not to far from Boy Harsher territory, but at the same time these are not instrumental b-sides recycled: we find here a more evocative and atmospheric take on Muller's music, rich in suspense, subtle soundscapes, and even well orchestrated rhythmic parts.
The short Intro introduces us to the album via vibrant and droning ambiances, presenting the first, more rhythm-oriented, part of the album dedicated to Orgone Theory. A suspended tension guides us with a synth crescendo climaxing in the celestial Four on the floor, a track strongly informed by Boy Harsher production, but with it's own dimension. Steady cymbals and bass sounds give us an elegant development enriched by mysterious lines and sudden samples. The kick complete the scene with a militant vibe.
Taste of metal is a throbbing episode with a crawling movement underlined by dark effects and micro-rhythms. An alien atmospheres characterize the ride, will snares and cymbals give power to the main bass-line. Alone dwells in pure ambient territory, recalling the recent work on scores of producers like Cliff Martinez and the duo Trent Reznor & Atticus Ross. The control and release of sounds and motif is the name of the game, conjuring a very subtle crescendo that gives us at the end a series of discontinuous keys.
Arrival signs the start of the second half dedicated to Hydra. A droning synth sounds conceive the main element upon which eerie lines and industrial effects are added in a moody track full of pathos and melancholy. The final part sees a factory-like and noise-tinged digression, before entering into the next episode Invasion, which continues the theme with ulterior strings and eerie pads. Once again, industrial and drone elements violate our journey, but this is no all: synth parts offer a pulsating crescendo with an ominous aura.
Departure ends the voyage with a dark ambient piece rich in almost orchestral tension and droning, shrilling effects collapsing in mechanical moments. A malevolent atmosphere reigns amidst broody parts, concurring to the whole crescendo which take us to the final moment of silence.
Machine Learning Experiments is a quite interesting output foreshadowing a possible future development in the American musician career. If sometimes some solution are repeated through the tracks, especial in the second half, nevertheless they offer a new point of view for his music with less safe structures and more of an experimental take. It would be interesting to see a further development and expansion on what done here, with even more new influences and songwriting. As it is, we have a nice score with well composed moments and a real reason to be here as something different than a mere variation on the main band under a different name.
Label: Nude Club Records
Rating: 7