Published by Davide Pappalardo on May 8, 2020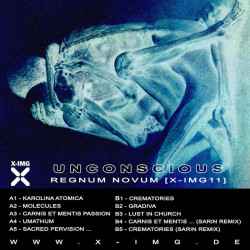 Italian producer Andrea Riberti a.k.a Unconscious returns on SARIN's label X-IMG with Regnum Novum, a 10-track album further exploring his take on techno/EBM music with cinematic and evocative elements . The artist has been active for some years, publishing many EPs under different labels, and an album called Your God Is Dead (Detriti Records, 2019).
Hi sound evolved with time, moving from pure techno/EBM sounds to the injection of acid, synthwave, rave, italo elements conceiving a personal style, His previous release for X-IMG, the collaborative effort with German dark techno artist HKKPTR called Countermeasures, was a pivotal moment for the artist's development thanks to strong sci-fi atmospheres with a cinematic feeling. So, it's only apt the fact that the new releases follows suit with it.
We will find here well-crafted synth sounds, retrò soundscapes recalling 80's scores and obsessive 4/4 rhythms accompanied by subtle but interesting variations. A sonic world eschewing a club-only attitude, instead focusing on proper tracks and offering an interesting listening experience with both dancefloor availability and an autonomous listen-at-home side.
Karolina atomica starts our journey with grim ambiances in a dark intro soon reached by crawling disturbances and ominous synths. Sparse rhythms conjure a sense of dread, while pulsating movements and sudden cymbals moves amidst post-apocalyptic scenarios. Molecules chooses a faster route with throbbing basslines and inquisitive kicks, in a seductive march underlined by melancholic melodies. It's like a darker version of the so called giallo disco sound, with a strong rhythmic base and shrilling synth sounds.
Umathum surprises us with dark ambient innuendos and robotic vocals, developing a drone soon substituted with EBM basslines and hypnotizing rhythms. The number evolves into a stomping ride with various drum-sounds and an infectious synth sound. Once again, a mutant style fusing different genres into a body-shacking and captivating voyage, enriched by eerie moods and retrò-futuristic atmospheres.
Crematories welcomes us with a shrilling crescendo, and then it deploys dark ambiances and obsessive bass sounds, with a darksynth soul incarnated in groovy solutions. The tension grows with the usual strong rhythmic attacks, while horror-score strings underline the track for a good portion of the first part. Almost gothic tones give us an epic and solemn atmosphere during the second side, alternate with the previous creepy melodies.
The cassette ends with two remixes by SARIN – the first one for Carnis et mentis passion and the second one for Crematories. The Berlin-based Canadian producer reinterprets them adding harder kicks and more of a mechanical structure, recalling his familiar militant attitude and often copied throbbing techno/EBM style.
Regnum Novum is a new effort in the career of Unconscious following a clear path he has been developing for years. Elements from the past, especially synth-based music like italo, score sounds, and acid, are used upon techno/EBM structures working as a skeleton for their electronic-flesh. Rhythms and beat are not forgotten, but there is a lot of evocative moments and well-thought cinematic passages offering a sonic world to be experienced.
label: X-IMG
Rating: 7,5