Published by Davide Pappalardo on January 9, 2019
ZWAREMACHINE: Minimal Hypnotic Industrial Body Music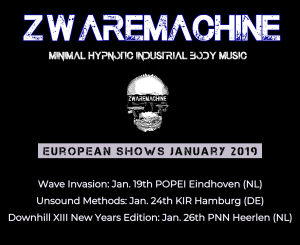 With an eerie hum Zwaremachine embraces early ebm/industrial soundscapes while keeping a persistent darkwave experimental approach.
Thoroughly deranged, Zwaremachine will trash your sense of disbelief a minute into the first song and continue to do so all the way through. In January 2019 Zwaremachine will be performing 3 shows in the Netherlands and Germany. The final show will be a performance at Downhill XIII New Years Edition sharing the bill with Portion Control(UK) and Henric de la Cour(SE).
Zwaremachine(USA) – Minneapolis' own fully realized industrial worship. This outlet of visual artist Mach Fox embodies the provocative sights and sounds of second wave industrial music. Influences from some of the top acts of the genres can be heard in the songs from "Be A Light" the first full length album released in 2018. With a clear focus on classic sounds and modern production he describes the style for this album as "Minimal Hypnotic Industrial Body Music."
SAT.JANUARY 19th 2019
Wave Invasion at POPEI – Eindhoven.NL
THURSDAY JANUARY 24th 2019
Zwaremachine LIVE at Unsound Methods – KIR Hamburg.DE
SATURDAY JANUARY 26th 2019
Downhill XIII New Years Edition at Poppodium Nieuwe Nor (Heerlen.NL)
Henric de la Cour(S)Portion Control(UK)Fïx8:Sëd8(DE)Zwaremachine(US)Katharoi(NL)
DJ Kitty & special guest DJ set by Dirk Ivens(Klinik/Absolute Body Control/Dive/Sonar)
Zwaremachine JAN2019 PROMOVID1
https://youtu.be/_fSmaLfkTEk
Zwaremachine JAN2019 PROMOVID2
https://youtu.be/ZHTWxMRjKtw
official site:
www.zwaremachine.band/
stream/download
www.zwaremachine.bandcamp.com/
If you would like to request interview or additional press please contact Mach Fox via the official website form.
Booking/Management contact:
inpoetnwc@gmail.com