Published by Alessandro Violante on August 5, 2023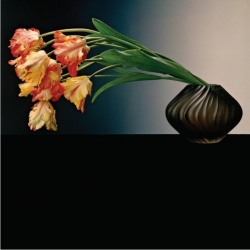 A wilted flower, a minimalist cover with a still life and a gothic-like melanchonic retro touch, as well as a mixture of techno, EBM and italo; that of Wirski is a perfect debut release, in which three songs (plus remixes) portray three shades of the current sound you can dance to in our alternative clubs.
MISBHV004 is not only the title of this release, but also the catalogue code of the fourth MISBHV release. MISBHV is a fashion brand born within the techno-punk Warsaw scene and run by Natalia Maczek and Thomas Wirski, which is the perfect example to understand how these alternative sounds have emerged from the underground and have become appreciated by relatively larger audiences.
Previously, the label released music by very different artists such as Radio Slave and Dj Hell, to name the most famous among them. With this fourth release, the label has switched towards the sound our readers love the most, and they could only appreciate this.
Although being his first release with the Wirski monicker, the artist already proves to have reached a great maturation, and all the songs sound very well. Inside The Dark Echo is the song having the strongest EBM influence, while Warszawa has a stronger techno sound, and Warm Waters Of Eternity has an italo influence.
The remix done by Pepe Bradock for Inside The Dark Echo offers us a more "classic techno" interpretation, while the remix done by Barnt for Warszawa has a retrowave taste reminiscent of eighties and nineties sci-fi movies.
In MISBHV004 there's everything this kind of release should have, without any filler or lack. We hope the label will keep on releasing such inspired music.
Label: MISBHV
Rating: 8