Published by Alessandro Violante on August 8, 2016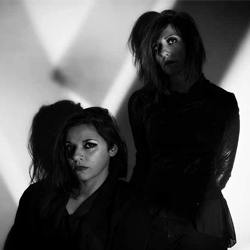 Winter Severity Index, the Rome-based project of Simona Ferrucci and Alessandra Romeo, has released few days ago a new album entitled Human Taxonomy, a respectable sophomore full length released after Slanting Ray,a work that brought them under the spotlights of both the national and international scene. Although staying loyal to their roots, with their new album  Winter Severity Index took a more particular direction, focusing on the instrumental side of their songs. Today we interview them  in order to understand the current state of the project.
Hi Simona, hi Alessandra! It's a pleasure to talk with you. Tell us a bit of the history of the project and why you've chosen this name.
Hi Alessandro, Winter Severity Index is a project born in 2009 as a traditional band, composed of four musicians. With this first emanation, WSI published their first self-released EP Winter Severity Index in 2010 distributed by AF Music and soon went sold out. In the same year and in 2011 the band already received several appreciations and began its live activity in Europe. In January 2012 the project transformed itself into a duo, after Diana Salzo and Valeria Tirabassi decided to leave the band. Then, (Simona Ferrucci is talking) I continued collaborating with Valentina Fanigliulo, aka Mushy, releasing the EP Survival Rate, published in 2013 by Blood Rock Records only in vinyl format. The collaboration with Alessandra Romeo, who play synths (previously active with Cat Fud and Bohemien) began in 2012 when playing a live with The Chameleons Vox. Together, we made our first full length, Slanting Ray, in 2014, released by Blood Rock Records (double vinyl) and by Manic Depression Records (on CD), now sold out, and we began to play live several times in several European countries. We play live with Giovanni Staccone, who plays bass guitar. The name Winter Severity Index means, in metereology, the lowest peaks of weather registered during winter. Likewise, music is a recording of difficult moments in which our life is tested, and during which everyone is being asked to think in order to overcome them.
Let's talk more in detail about Human Taxonomy. It sounds to me as a concept album, or maybe I've tried to think it in this way. What do its songs talk about?
Human Taxonomy was born from a thought upon the urgent classificatory will of the human being not only towards reality that sorrounds him but also towards himself. The man reduced to a category, put in a role that he necessarily has to have in order to be recognized by society, sees how his personality is replaced by an already built role, to which he feels, in some way, that he has to adhere, nevertheless claiming the urge to differentiate himself from it. Even if he says he's different, sometimes, the human being makes again the same error, falling into a system made of masks and labels from which it isn't easy to definitively free himself. What follows is a sense of painful alienation coming from his most interior side, that, at the end, reclaims the freedom to live on nuances and ambiguities. The musical atmospheres of this new album, its lyrics and the visual concept too are linked to this sensation of painful separation between the will to be different and to affirm its personal individual proprieties and, on the contrary, the need to fit into default social clichès in order to be recognized by human society. In a way, it's a sort of concept album, not a simple collection of songs and of suggestions that recall a particular atmosphere, as it was our previous album.
It seems to me that, thinking about Slanting Ray, a change occurred in your sound. This album sounds to me more linked to '80s sound, but with uncommon elements, it's very heavy and "physical". Do you wanted to recover (post)punk aesthetics in a clearer way?
Maybe the choice of going back to post-punk roots can be recognized in less articulated arrangements, in a minimal and more powerful construction of songs, functional to the expression of topics linked to an irreconcilable individual torment, rather than to a sense of melancholy, as in the previous album. Then, it was a choice functional to the expression of this feeling of existential conflict. Obviously we don't think that this new album can be easily labeled as a post-punk album, there is surely more, a contamination with other sounds, with other genres and with other music we have listened to. Surely, we can't say in which percentage they're into the record, when we play we don't think about labels, it's the opposite. We try to cut off any element that inevitably could cause frustration and could limit us.
How the writing process happens? In each of your songs, how much is made by Simona and how much from Alessandra?
We can't precisely say it, in fact also in the album we haven't specified what the single musician plays. The project, although it's my creation (Simona), actually is a duo. Even if sometimes song structures are mainly composed by me, songs are shaped together, we work together to sounds and refinements.
How's the scene in Rome? I know that, for example, there's a new wave festival with which Simona, if I'm correct, collaborates. Is there enough space for your music?
Rome scene is experiencing a crisis due to the closing of a lot of places in which it was possible listening to live music. Obviously the problem doesn't only affect new wave but the whole alternative scene. The hope is that it's only a transition moment and that soon new places will be built, where bands can play their independent music. As far as Distanze, the festival you were talking about, we don't know if there will be the chance to organize its third edition, mainly due to problems regarding the location. We hope to be able to do it, maybe in 2017.
Simona, you've graduated in Art History. Do you think that there is any artistic current or any artist influencing your music?
Being graduated in Contemporary Art History, I think that knowing the creative processes dismantling the figure of the artist seen as an isolated genius, almost enlightened by God, have strongly influenced my approach to creativity. In particular, I think that the full certainty of opportunity to see the artistic fact, and creative tout-court, with a functional approach, aimed at solving an expressive problem through the construction of communicative strategies that use few basic elements in the most effective way possible, have been important in my training years. Fundamentally, the destruction of the Romantic idea of inspiration, the awareness that no artistic fact could be considered detached from what came first, the crossing of the idea of avantgarde conceived as the idealistic will upon our contemporary reality, the refusal of the fascination for technology without deeply analyzing its social impact and the consequences of its use on human beings…they're all thoughts I've previously faced critically and historically as far as for other artistic forms that I feel as necessary starting points in my own thought. I think there isn't any artist that could have had a strong influence in my creative process, but I believe that several ideas of the '80s are very close to my point of view. I think, for example, at Bill Viola, at his way to use video medium as koinè upon which building a new human communion, the refusal for cold conceptual speculation, rather the attention focused towards basic forms of human expressiveness through which feelings are transmitted, that finding a form of media amplification in the cultural filter through which they are proposed. A play based on archetypical linkages that talk straight to the deepest layers of our soul rather than being only a dry form of cultured play of quotes.
Your music seems to me a clear homage to the golden years of post-punk / new wave. How much those years have been important for your musical training? Are you influenced by other musical genres too?
Obviously they have been very important. Both Alessandra and I began playing on the trail of our passion for post punk / new wave music. This happened for us in years in which there wasn't a particular media interest for this kind of music, simply because it wasn't "trendy". Our equals in age that moved towards played music were mainly interested in rock strongly derived by blues, grunge, metal…we haven't lived "on real time" the epoch that has musically influenced us the most, in the '80s we were a little more than babies. But I don't think that discovering in that kind of sound a precise consonance with our inner world happened by chance. Surely, our own reflexive and intimate trace, the same sounds can be also found in other musical genres that were equally inspirational for our music. We fed ourselves also with trip-hop, elettronica, post-rock, shoegaze, synth-pop, kraut, psichedelica…
Let's move from the musical dimension towards that of the listener. Is the current listener different from that of early '80s? Has the subculture linked to post-punk / new wave changed its codes during all these years or not?
During early '80s I spent my time learning to walk, eating food, playing with little butterflies put above the cradle, eheheh…I guess so, it seems to me very logic thinking that it was true. The subculture linked to post-punk / new wave is clearly different from what it was in the past. According to me, we can't think that a determined kind of sensibility belongs to a single epoch. Today, that same sensibility has surely borrowed an already defined and explored expressive vocabulary, but surely it has enriched it with something definitely contemporary. I think it's time to find a new label for this, that surely has more than something in common with the past, but that is different from it for others. Keeping on considering all as a simple prosecution of what it was in the past doesn't give the proper value nor to the past nor to the present, according to me. It isn't a pure revival, now this is sure. Some years ago, when talking about Interpol, people labeled them as successors of Joy Division, but today, also listening to their debut album, who could still now have the courage to say the same thing? Whoever talks critically can recognize how much contamination with other musical genres coexist in the music today identified with the generic label coldwave.
What do you think about music fruition in the Internet era? Is it better to listen on mp3, CD, vinyl or tape? Which one do you prefer and what do you think could be the best for your music? 
The best is the gramophone! Obviously I'm joking. I think that every media has its dignity. I'm not a detractor of vinyl, I'm not a fanatic of vintage but I think that different media push towards different listening practices. Vinyl is a very beautiful object, I adore vinyls and I think that they invite the listener to make a more attentive and meditative listening. Vinyls are enjoyed in the intimacy of our own houses, maybe lying down on the sofa, one have to turn the vinyl at the end of the side, it isn't possible to be very distracted, it's beautiful to have in our hands the cover when listening to it. That's the reason why I could think that this is the medium that gives back the most to the work of the artist. It's not a matter of pure love for how it sounds, as I think that there are particularly thin differences that only experts can catch. And music is for all, clearly, not only for hi-fi fanatics. I don't think that mp3 could represent death of anything. Having the same album in different formats allows listening to it in different contexts, also is very interesting too. Then, mp3 listened in the seaside or in the subway are welcome, cd listened in the car while driving, also the tape that maybe represents an object that makes us think about our childhood…why not? Why self-limiting us?
Let's talk about the cover artwork. It seems to me that, with Human Taxonomy, for the first time you have shown a person, while in the previous releases you used more abstract and ethereal images. Is there a specific reason for that or not?
Nothing happens by chance in our project. We give a maniacal weight to details, also as far as for the visual communication. I've made all the artworks, except for that of our first LP, Slanting Ray, made by Giovanni Stax. Each work has its visual counterpart, the suggestion passes through the image too and reinforces the message transmitted by music. The first selftitled EP shown an out of focus image of a black and white view, minimal, cold, horizontal, it had to emphasize a sense of deep torment and, at the same time, of failure and total impossibility to make an action, a sort of existential tabula rasa. That was my sensation back in the day, discomfort and defeat can be found inside all its lyrics. The second EP Survival Rate shown, in the cover artwork, a photo portraiting the hand of my grandmother holding a parch pomegranate in her hand. Inside her hand there was mine, that tightened the same fruit. Obviously, it was a strongly symbolic image, that represented how time goes by, the will to keep innocence although the decay of an increasing disillusion. What remained after pain? Which precious things should have been saved after death experience? The EP focused on this. The first LP Slanting Ray returned visually the idea of residual light, of something extremely vital that persists also in the coldest season, this time not through symbols but only through suggestion. Also melancholy is beauty, beauty doesn't exist without melancholy. I think that this could be considered as a basic idea of our first album. Now we've also started to use visuals during our live performances. Alessandra is taking care of this. Visuals are always strictly linked to the artwork and they recall the same suggestions. The same happened for our last album, that until now was only shown live at Wave Gothic Treffen. In Human Taxonomy, I think that a fundamental step happened in the use of lyrics: I moved from surveying what's strictly inner, from pure lyricism, to taking in exam the irreconcilable attrition between I and society. In the cover, the face, what distinguishes us from others as human beings, is negated, hidden to our gaze by classification, nomenclature. This happens in every form of human society: humans cease to exist as individuals and necessarily need to adopt an already constructed image, need to tone down their personal characters that are only and exclusively seen as flaws. And need to become, in this way, empty masks, after all.
Does it exist, in your music genre, an "Italian sound", or are Italian bands influenced by sounds coming from the whole world?
Sincerely, I don't know if there is one, so I can't tell you. I don't think an "Italian sound" exists, but maybe I'm wrong. I believe that the are lots of sounds that compose a very interesting scenario, but I can't find an homogeneity of sounds.
What role could webzines have in 2016? Are they truly capable of influencing the act of buying an album, rather than another?
I don't think that the role of webzines is purely of promotional support. On the contrary, I believe that their role is to keep alive the debate around whatever current cultural argument, to stimulate discussion and thought, to act a bit as a representation of current times.
Thanks for your time. If you want to, greet our readers and invite them to buy your new album!
Thanks to you, Alessandro, and to all the readers. Who could be interested in our new album can find it on our Bandcamp page or through Manic Depression Records and, of course, on the major European channels of distribution.