Published by Alessandro Violante on June 19, 2016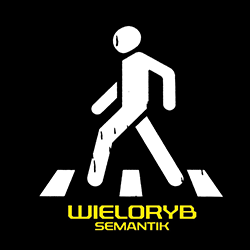 A comeback towards his roots, towards the roots of the techno sound: this is what Polish musician Pawel Kmiciek, known with the Wieloryb monicker, offer us in his fourth album for Hands Productions, Semantik, released on 22nd April few days before his performance at Forms of Hands. Since having listened to the new album's previews, published some monts ago, the Polish project fans noticed the partial change in style of his music, which left the syncopated rhythms of Namaste and Root, to come back to purely techno rhythms, tools already used and explored in his first album for Udo Wiessmann's label, 2011's Empty.
Rightully considered one of the most talented projects of the current rhythmic noise scene, Wieloryb creates with Semantik his most personal and "human" album, a different work from the cacophonous abstraction shown in the recent past. At the center of his new album there's the human being, as indicated in the artwork where he walks assured along a pedestrian crossing, and this self-confidence can be found also in the music here contained, which presents squared techno industrial-influenced rhythms, always keeping, more or less,  power noise elements that represent the trademarks of the project.
Right after having pressed the "play" button, we could think we are listening to a form of "controlled chaos" put within a rigid techno structure, and in fact the title track is slow but heavy as a rock, with a rhythm rich of inner upheavals that give us a skein difficult to sort out. Martial tempo and stabbing sounds recalling his label mate Geistform are key elements in an energetic song. Then we have Statistik and Solar sides, keeping approximately the same approach: the first one begins with technoid rhythms, leaving space soon to a squared song, freed from any embellishment. This modus operandi lasts for the whole first song, while in the second one samples of children engaged into the act of play (or in a prey?), maybe singing in Polish, emerge, leaving space afterwards to a techno industrial number enriched by sounds evoking a train running on tracks. When we were talking about the "humanity" of this album, we did it in relation to a different usage of sampling, which is here more human: not taken anymore from a movie, but from real life. Here techno rhythms recall the heart beat way more than the cluttering shrill of industrial machines.
If the subsequent Crash report (dance mix) is an interesting experiment that rereads the musical solutions used in the past by the Musician but with a techno flavour, wisely merging short rhythmic moments and particularly incisive squared pulses in constant mutation, instead Behi Jessir (44 Second Long Remix) is a long suite of eleven minutes with Middle Eastern traits, in which a 4 / 4 beat unrelentingly repeats itself, changing form and becoming increasingly stronger and "physical", upon which, later on, sequences of sounds coming from a factory are perfectly put.
After this first, more properly techno part of the album, Wieloryb presents his old classic rhythmic industrial sound with songs such as Sensis and Umbro, but in a more refined way, thanks also to a radically different production from that used in Root, less distorted and sharp, but more dense and doughy. The first one is an exemplum of the genre, while the second one is more articulated: this last one in particular recalls some African tribes rites with its tribal-like rhythm and, at the same time, not so fast running trains (in this album, Wieloryb prefers to use a slower tempo), while distortion has a different role, a less important one than it used to have. The rhythmic explosion, closer to his classic style, can be also found in Symantik, in which upon a feral mid tempo, a fast hardcore techno ride is erected, highlighting his influencest, which are rapidly shown and hidden.
The same tribal rhythmic character can be found in Mona Liza 3.0, another song which rhythmic industrial has an almost mystical and ritual connotation, cyclically heard until the end of the song. Organ is a charged-up techno industrial ride that shows us what happened in industrial music in the last few years, being characterized by rough sounds and almost retro melodic details; Syntetik is the ending song, closing the album with a cinematographic sample and another  particularly heavy and engaging 4 / 4 rhythm, a worthy ending for an album that crushes us as if it was a storm of asteroids.
As said in the sample of Symbiotik, Wieloryb has felt the need to change a bit his musical direction and his approach to rhythmic industrial, using less abstract rhythms, more "easily enjoyable" in some alternative stages, in any case giving to each of the songs here contained a personal musical imprint, courageously redefining a well established formula and succeeding in keeping listeners interested. Passed with full marks.
Label: Hands Productions
Rating: 8