Published by Alessandro Violante on June 29, 2016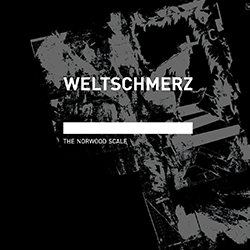 Often happens, especially in Italy, to have to explain what rhythmic industrial music is and why it's important to give a good measure of it in the history of so called industrial music. It's easier said: a rather deep linkage exists between Weltschmerz music, best known for his Mono-Amine project, which debut album, The norwood scale, released by Ant-Zen on 8th June, is here analyzed, and the historical era in which all of us live, the so called Postmodern age. The minimal, distorted and claustrophobic music of the Dutch expresses the depersonalization of Postmodern human being and the alienation that is generated by this phenomenon, but it's also a portrait of a particular geographical area in which this music was born and developed itself, given that the listener agrees with the idea according to which every place has its music, as an expression of a specific social and cultural context.
Joost adopts the idea of less is more propagated in music by Minimalim and, later on, by the work of industrial music pioneers Esplendor Geométrico, Dive and Sonar, and in Arts, among the others, in the early years of Nam June Paik's artistic discourse (let's think about 1964's Zen for film, the first FluxFilm). The norwood scale represents the will to come back to the origins of rhythmic industrial: apparently an easy task, but here ten songs are built with a "limited" number of sounds, with the same approach for research and the same expressive urges recognizable in early works made by important artists such as Imminent Starvation and Synapscape.
No embellishments that could ruin the message, but a refined primitivism that expresses itself through a neverending rhythmic repetition, with loops that increasingly acquire weight and value, plus dirty distortions, which are leitmotiv of the genre. The Minimalism expressed by Joost, the searched raw production, typical of important works such as rge ones of early P-A-L, the use of a rough old school approach and a particular sonic crudeness are the main ingredients of an album which "simplicity" is only equal to the explosive strenght of the message that it expresses. It's a sound that seems to come straight from the bowels of the earth. It's the ant that emerges from the underground, a strong ant called Ant-Zen, here expressing itself through the music of the Dutch musician.
The message is a thought upon the decline of a humanity that is unable to express its potentialities, as written in the promo notes of the album. According to the words of the musician, music is the strongest way to translate the deep thought and the experience in a way that gives energy and emotion especially when played loud in a place with open minded people. His thought helps us to understand what his music want to express, a music that goes to the roots of the genre and courageously highlights its trademarks.
Weltschmerz work isn't simply a tribute to old school, but something more. It's an album influenced by contemporary industrial music expressions, from techno industrial and Dutch hardcore techno, which can be found here in fast and strong four on the floor beats, borrowed from the sound of Mono-Amine (let's think about Harsh reality, to name the most relevant example). It's an album that, more than updating a genre born in the '90s to our times, explains us what historic, musical and expressive beacons strongly links the history of rhythmic industrial to techno, establishing a bridge between this two world, a linkage that some have already understood (Phase Fatale plays early P-A-L music in his mixes, while Blush Response shows it to us in the really good and hybrid work Reshaper, released by Stefan Alt's label too), and that others will understand carefully listening to this album.
A simple and genuire recipe, made of rhythms, distortions and a bit of Orwellian atmosphere. This is all, and if you think that this isn't sufficient, enter in the shamanic ballet for androids of the opener Dht, exasperated and syncopated, in which the rhythm sounds primordial, post-industrial, close to eruption. Enter into the spiritual dimension of Catagen, in the engaging, raw, straight to the point techno-rhythmic hybrid of Blocking the conversion, freed from hipster-derived useless embellishments and sophistications that can be found in other different musical contexts. Classic rhythm 'n noise with a breakbeat aftertaste are also here, such as Manipulating the activity, which pay tribute to Weltschmerz's masters, and almost martial outbursts as Shock follicle, a rough, pure and physical song, also thanks to the use of a drum machine that evokes the use of double pedal, typical of metal music.
The norwood scale is a point of reference for whoever wants to understand what this music is in its purest and primordial essence, presenting us ten songs linked by a long length, an element which is the double edged weapon of Joost, even typical of Mono-Amine's music, expressing an overwhelming attitude; the same expressive urges that his colleagues expressed more than twenty years ago, with the same explosive power. The ability of this music to sound new and fresh makes this album an essential to follow, updated to our times in the true meaning of the word, an expression in music of a subculture that has got  popularity in the German underground, worthy of being discovered for his genuineness. If you're searching for an album with an old school approach but that, at the same time, looks proudly to the future, Weltschmerz is a good choice. Open your mind towards the new, you won't be disappointed.
Label: Ant-Zen
Voto: 8, 5