Published by Alessandro Violante on September 26, 2019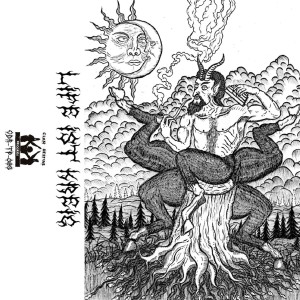 It's already been ten years since the Glasgow-based label Clan Destine Records started releasing music, quickly becoming an example of a true underground label releasing quality outputs by talented artists. Today Carl Clan Destine has decided to celebrate this important anniversary giving to the listeners a compilation on tape featuring 42 unreleased songs by 42 more or less young artists which have been involved with the label through the years.
Life ist krieg sounds like a declaration of intent, Clan Destine's sincere dedication to underground music against the mainstream; a release having many facets, genuine yet complex, asking a careful attention to the listener to be fully understood and assimilated. In Life ist krieg, the many projects involved always change the shape of this mastodontic celebration, never annoying a listener constantly hit by a large array of different and engaging inputs. The work is enriched by a quite rough sound giving to each song a pretty old school atmosphere.
The compilation could be split in four parts, each corresponding to a side of this double tape. The first part, corresponding to the first side, is the most particular not only because here there are several rather different songs, but also because they often cross the boundaries of music genres. Among the examples let's consider Fyre! by Bodgan Drazic, Deus ex machina for datum by Da Goblinn and Gotta get by Sortahuman & Nattymari.
Bogdan Drazic captures the listener attention with a well-crafted and inspired mix of Eastern sounds and atmospheres and engaging drum machine lines putting the listener into a catatonic state; Da Goblinn shows an hypnotic retro and nostalgic synthwave crossing the boundaries of the revival of the genre by the use of slow warmer drum tones drawn by the Roland TR-808; Sortahuman & Nattymari beautifully mixe synthwave and hip hop.
Opium Grave and Mater Suspiria Vision show their sparkling witch house formula in a music scenario in which this genre is often considered outdated and out of the spotlights. Especially Opium Grave is a good surprise, while MSV doesn't add anything new to its formula of acid and lysergic synthlines supported by the pulse of the drum machine.
CBN shows the noisiest and roughest side of this part of the tape, while Punky Jones and Curt Crackarach slow down the tempo with their dub-influenced music. Also, Autumns and Twins should be cited with their minimal sounds and their '80s influence.
The journey continues on the second side, more focused towards harder rhythms, distortions and drums. Think of Dionysian Rituals, the heavy drum lines by Verset Zero and the experimental song by Bergsonist, in which acid, synthentic sound a la Aphex Twin, and IDM rhythmic patterns collide, finding a good equilibrium. Striborg and Child Of Night have a more wave-influenced sound, while Bestial Mouths, Burial Hex and Burnt Hair take the listeners with them towards far places. Theme from her mouth was by Burnt Hair, with its piano sounds, is a ten minutes-long journey towards the occult.
The third side, the first of the second tape, is even more centered around rhythm. It is more influenced by techno in Summer of love by Mchy I Porosty, a bad trip towards the unknown; it's a frenetic dance in a silent obscure forest in the noisy Milwaukee protocol by Ian Hicks; it's a techno-punk frenzy run in the burning Body music by Dj Sludge; it's a catatonic Esplendor Geometrico-influenced syncopated dance in Magia negra by Tara In Tibet; it's a temporary trip through '90s past thanks to the broken rhythm built by [NRRVS]; it's the exploration of a morbid mental condition in the claustrophobic Drip & gag by JT Whitfield; it's a desperate and fast, repetitive, noise cut in Derrida of lime ridge 4ever by Huren; it's a strong IDM in Marshall Applewhite song, without forgetting Dj Ghettoscraper. There's also space for slower, dark ambient sounds in the song composed by the Italian project Sa Bruxa.
The fourth and last side of the double release is characterized by heavier and crepuscular sounds. There's the bad trip evoked by Ludgate Squatter; the slow descent into the abyss put in music by Private Service, the frenetic and metallic rhythm by Deflector and L/F/D/M, the very fast techno run by Dj Loser (who has recently released a new tape with Veyl); the goa trance-influenced song by Penelope Fiance; the horror movie-like ambient sounds of Madrelarva. Dj Speedsick, Pull Rank and Morah should be considered as well, closing a release full of different sounds and music formulas, easily ranging from one genre to another. The last song by Ritualz is the perfect witch house song closing the circle started with the opener by Opium Grave.
Life ist krieg is a wonderful music journey which will ask the listeners for the right time to be fully understood and in-depth appreciated, giving them back a rich experience and several emotions and sensations.
Label: Clan Destine Records
Rating: 9