Published by Alessandro Violante on April 23, 2019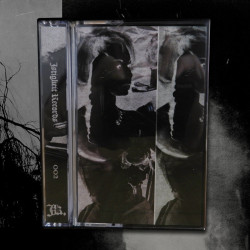 In a scenario already rich of new labels and artists active in the field of the hybridation between techno and noise music, there's also the young tape label based in Lyon Istigkeit which, following the wave of the rediscovery of certain sounds, releases a sophomore collaborative release featuring four new songs by four young artists: one of them is Shrouds, and the others are Artik, H880 and Istigkeit himself. 
The format used here is the tape, distributed by Ready Made Distribution. The use of this format and the music recorded on it show a punk urgency really needed by this scene. 
Istigkeit provides for this need, showcasing an enviable creativity, as well as the will to do something more than a proof of concept. Each artist do his best and the result can clearly be heard. 
These four songs have an old school approach, a quite rough and abrasive sound and a certain taste for music imperfections with a punk attitude. All these elements are the ingredients of a convincing, fresh, shattering recipe. 
Shattering is the correct word to describe the opening song Dictators die! by Shrouds, a young talented musician who has already a release with the Dutch label Shock Therapy, and several songs and remixes as that for Italian project Exome (the new side project by Lorenzo Arcari, half of defunct Synaptic Memories), which will find place in his next release.
Here, in what can be considered the most complex and most convincing song of the release, dystopic industrial samples are perfectly used, and they suit well with the anxious atmosphere and the ever-changing hard techno-based rhythms. We go from 4/4 straight techno to more syncopated beats, evoking the rhythmic-noise masters of the past decades. 
Also, the following track Degradation of mankind by the label owner Istigkeit is a hard-hitting and convincing song, made dirtier by a foggy and dark atmosphere, as well as by alienating samples and rough beats. 
The followong song Existence & knowledge, by Artik, has a slower tempo but sounds engaging as well, enriched by a gray and dystopic atmosphere; an episode centered on unpredictable syncopated beats dominating the song through its whole length. 
The ending track, Shot in cold blood by H880, is slower and heavier, it hits the listener with heavy metallurgic beats and rough distortions. 
This collaborative reffort is an umpteenth example of what's been recently happening in some areas of techno-influenced industrial music. It's an inspired, rough, genuine, hard-hitting and punk release. 
In these four songs there is the will to dare the standards of the genre, to refuse standard solutions and to give back to electronic music its punk attitude and sound.
Lyon-based Istigkeit is another interesting label which should be followed in the future, release after release, hoping that this spirit won't disappear.
Label: Istigkeit
Rating: 8