Published by Alessandro Violante on December 1, 2020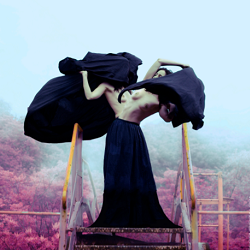 Maybe not all our readers know Köpenicker Strasse in Berlin, close to the Heinrich-Heine-Strasse U-Bahn station. It's an important road in East Berlin because that's where a lot of well-known techno and electronic music clubs are located: just think that in Köpenicker Strasse 70 there are the Kraftwerk, where the Berlin Atonal yearly takes place, OHM and Tresor. Just walk some meters and at Köpenicker Strasse 76 you'll find KitKat, one of the most important and particular clubs in Berlin, where GEGEN parties take place. At OHM a lot of labels organize their parties. Berlin Atonal, OHM, Tresor, Kraftwerk, Kitkat are very important places in Berlin for electronic music.
Imagine walking in Köpenicker Strasse at midnight after having arrived in Berlin with your flight, as happened to the writer of this review. You'll probably find the same atmosphere you can find while listening to the new release by GEGEN Records, GEGENDIGITAL001, only digital upcoming compilation which will be released on 27th November 2020, sophomore release after the first compilation GEGEN001 reviewed by us in June. We suggest you to give them a spin if you want to better understand what Berlin sounds like and how much this music is important in that city.
In our previous review, we've already talked about the GEGEN mission, that we can express with the same words of the organizers "crossfading of queer social criticism with body politics with glimmering and dangerous beats". That's what GEGENDIGITAL001 is, a compilation featuring eight outputs perfectly summarizing the hardest, industrial and punk techno sound you can listen in some of the aforementioned locations, and of course, in GEGEN parties.
Punk is the right and the best word to describe the sound and the perceivable attitude of the opening song by 2XNI, a German-Polish duo playing punk music with electronic instruments. Don't call it simply techno. The following song, Gegen Me Out by the Polish artist Monya is banging and powerful. This musician is best known for her label Corresponding Positions and for her release on HANDS.
Lady Maru, with Climate Rage, evokes the sound of rave parties with her '90s-influenced acid techno sound, while the ending song by Hybral, entitled Gegen Polizeigewalt, is the strongest and the most hard-hitting song. Esther Duijn, Eastel, Madwoman and Martina S. provide very solid and banging songs as well. Listening to GEGENDIGITAL001 is a pleasure for fans of hard techno industrial lovers, music with a strong impact and a strong and important message as well.
GEGENDIGITAL001 isn't only a portray of what GEGEN parties sound like, but is also a way for the readers and for the listeners to dig into a side of the underground music net which sometimes is not so known, also because some of these artists are linked to other cool projects or they run labels and projects themselves. To name a few, think about 2XNI who have released songs on labels such as Industry Recordings, Nu Body Records and Death By Rainbow; Madwoman who released songs on Ismus, Brvtalist Sound Recordings and Khazad; Eastel who runs the label HeartsWhispers Records and who is resident at Eradys-records; Esther Duijn who released music with Coincidence Records, Total Red Records and others; Lady Maru who is active since several years in some of the most known clubs in Rome and resident at GEGEN.
Some words should be written about the artwork by Andrea Galad, who already signed the artwork of the first GEGEN records release. This work, entitled "The Sorceress", put the body at the center with a background in which the industrial and the natural elements coexist, as happens in the Postmodern aesthetic where the mixture of elements of the past and of the present give shape to something new. The body, with its post-Caravaggesque dynamism and its mythological shape makes us think about the problems related to gender sometimes still existing today.
If, as Marshall McLuhan wrote, the medium is the message, the music contained in GEGENDIGITAL001 is the medium through which expressing the GEGEN message, maybe more important than the songs themselves, representation of the music and social zeitgeist.
Label: GEGEN Records
Rating: 8, 5