Published by Davide Pappalardo on February 2, 2021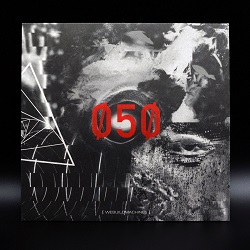 Machines of Deliverance is the new compilation celebrating 50 releases of modern experimental electronics and techno music from American label WEBUILDMACHINES. A limited 10-track vinyl and digital (this format comes with two exclusive tracks from Faceless and Linbo) sporting haunting atmospheres, eerie scenarios, dark techno structures and rhythmic patterns with hypnotizing undertones.
Headless Horseman offers Shift in time, a cinematic affair with monolithic movements and a militant rhythm  reached by evocative synth sounds. A track showing a more melodic side of the famous masked producer. Tunnel play with vast ambiances and sparse rhythms in Everything is changing, before pulsating bass sounds and steady kicks have their say, underlined by ominous samples in the background. Broken parts with a cybernetic feeling give a modern sound to this episode.
Opus Daemonii dwells in distorted layers and marching patterns with Quantum rift, a techno-industrial mechanism enriched by dystopian sounds. During the second half of the track with get a harder motif, but the number never really explodes focusing instead on subtle menace.
Axkan gives us Empty, a droning track with obsessive kick drums and grim soundscapes upon which different rhythmic elements are added during its crescendo. The final result is a factory-like movement with crushing industrial elements.
SKD showcases suspended atmospheres in the intro of Hellbound in paradise, before achieving an almost tribal sound based on percussion. Then, an epic structure guides us with acid undertones and crawling techno galore. SRAMAANA and the track Sicmundus offer another late-night dancefloor moment with looping rhythmic and distorted grinding lines and sparse elements which herald the ride that dominates the second half of the episode.
C-KAY follows suit with Time to crumble, a crunching techno affair underlined by dark synth sounds and hypnotizing rhythms. Sparse filtered elements complete the scene with a grim vibe. Soseol dwells in more experimental territories with the alarming motif of Volnost, a droning mantra upon which militant bass sounds are placed. Then, cymbals and compulsive beats follow a futuristic setting full of malevolence.
About the two digital-only tracks: Four of three from Faceless is an eerie number with engrossing kick drums and well placed effect which offer an enthralling pattern. Different kinds of rhythmic elements are used in a coherent way, as well as perfectly calculated pauses. Linbo and Falsity became our sport end our journey with a stark techno track full of kicks, snares, and effective acid soundscapes made for late-night ventures on the dancefloor. An old-school moment with no-nonsense and captivating loops.
Machines of Deliverance is an apt compilation showcasing the current darker side of techno music. Industrial motifs, grim atmospheres, obsessive movements and acid vibes are the main themes of the sound here presented. Hints of experimental moments never leave the core nature of the tracks, instead they enhance the rhythmic structures by offering well crafted diversions. If you love proper dark techno sounds, this compilation is for you.
Rating: 7,5
Label: WEBUILDMACHINES