Published by Alessandro Violante on March 12, 2021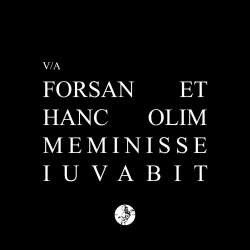 Since 2003, STIRPE999, a label born in Rome and founded by Fire At Work, released a huge number of releases, especially compilations, becoming through time one of the most respected and known Italian historic projects. STIRPE999 has released music by well-known Italian musicians such as Luciano Lamanna (who's released music with Boring Machines, Scuderia, No Pizza Records and many other labels), Sirio Grimaldi (better known as Sirio Gry J, founder of Monolith Records and member of Liber Null Berlin), as well as international historic respected projects such as Somatic Responses (who have released music with Acroplane Recordings, Hymen Records, Ad Noiseam, RIOT Radio Recordings, HC Records and many other labels) and PURE (also known for his historic projects Ilsa Gold and Sons Of Ilsa together with Christopher Just and many more others).
That of STIRPE999 is a journey which weight is well celebrated with its new compilation, a huge sum of everything done through almost twenty years, entitled Forsan Et Hanc Olim Meminisse Iuvabit, a Latin phrase borrowed from Virgil's Eneide, literally meaning "Maybe one day we'll be pleased to remember also these things". These words were said by Aeneas to his fellows in the attempt to encourage them during the bad times. Today, this phrase becomes a metaphor of the times we're living. This compilation isn't only a celebration of the history of STIRPE999 and an important milestone in its discography, but also an invitation, made to the artists, to keep it strong and not to surrender to this difficult situation, and it's also an important statement made by the artists through their music, manifesting their strong will to keep on expressing themselves.
It's one of the richest and most kaleidoscopic  works released by STIRPE999, which strengths have to be found in the wide range of styles and in the wise tracklist, which, starting with A silver music on the mossy lawn by Vchutemas until the ending song Avril 14th. Variazioni sul tema by Goedel, gives life to an all-encompassing listening experience. Forsan Et Hanc Olim Meminisse Iuvabit never bothers the listener with its sonic richness and the plenty of different outputs. Each song has its sound while sharing with the others the characteristic of never sounding ordinary. A spirit of research can be perceived in each song, regardless of its style.
Forsan Et Hanc Olim Meminisse Iuvabit, released on 1st March, is the result of the collaboration with the artist Federico Gargaglione, and it's the first part of a series of releases which is available in digital format and on 20 limited prints on metal.
The compilation includes songs by several artists such as Giona Vinti (also known for his projects Fekete and Hyena), A034 (Raumklang Music, RXSTNZ), Fausten (who's released a cult album with the historical and defunct label Ad Noiseam) until the aforementioned Somatic Responses, Monster X (who has released music with Black Opal and Murder Channel Records among the other labels), PURE and Vera Spektor. The listener has plenty of choice. Atonal songs with piano sounds such as Untitled by Reeks perfectly coexist with the minimalist rhythms of A034 and with the noise output by Sirio Gry J, this one evoking the discovery of far planets by spacemen, and with the abrasive rhythms of Dan Hekate.
Forsan Et Hanc Olim Meminisse Iuvabit offers to the listener an almost 90-minutes long sonic experience that maybe one day we will be pleased to remember.
Label: STIRPE999
Rating: 7, 5