Published by Alessandro Violante on July 9, 2021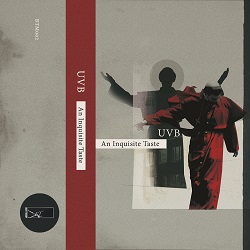 In the very rich music scenario of Berlin, we also find the label Body Theory, created by the French musician Sébastien Michel, better known for his projects UVB and Elements Of Joy. Since 2016, with this label, this musician started to release his music, alongside two releases, respectively by SZYMON and Rendered. Besides Body Theory, UVB has released music with a large number of labels, such as Mord, Fracture Label, Numb, Stoor, Analogue and Monnom Black, while, with his project Elements Of Joy, he's recently released a new work with the Greek label Pi Electronics.
In his new release, entitled An Inquisite Taste, which will be released on Body Theory on 20th June on tape format, we find techno songs enriched by EBM elements, samples, and an important melodic element. After the short opener Birth On The Cross, UVB hits the listener with seven songs in which the strong old school techno beats and the hard-hitting rhythms give sometimes space to some pauses, but the rhythm is the main element of his work, enriched by exotic and visionary melodic patterns.
With An Inquite Taste, the French musician makes a further step in the evolution of a more than ever hybrid style, portraying the current state of a certain type of techno music.
Label: Body Theory
Rating: 7